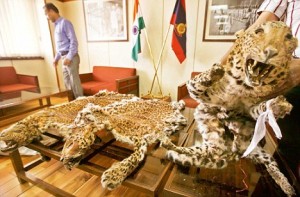 22 year old junior level boxer, Meetu Singh had a promising future. He was well built, had both the strength and agility needed by a professional boxer and had represented Himachal Pradesh at the national level. But boxing could not satisfy his greed and that is why the sportsman turned his attention to a different kind of sport killing leopards and selling the animal parts for lakhs. The boxer's fast road to affluence ended Friday though when police caught him red handed with his latest loot.
Meetu used to coach students at school in village Rohru. But he lived a double life, of a coach and also of a poacher. By day the veteran national level boxer taught young kids to hopefully represent their country in boxing arenas and by night the villainous character would rob the same country of its natural wealth.
Collaborating with other poachers, Meetu hunted leopards in the forests of the Shivalik range in Himachal Pradesh.
'Meetu and his partner hunted leopards in the forests of the Shivalik Range in Himachal Pradesh. By laying a clamp on the path taken by the animals, they trapped them. Once a leopard was caught, the poachers would beat the wild cat to death,' Ashok Chand, additional commissioner of police (crime), said.
The metal traps put near water beds were chained so that once a leopard was trapped it could not run away. When the team found the trapped animal they would beat him to death taking care not to destroy the fine coat of the animal.
Police says that Meetu was also meticulous in cutting the skin in full as it meant higher price in the black market.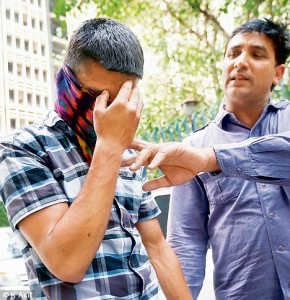 Police had been looking for leopard poachers in the area for quite some time and had certain clues that Meetu was involved. On Friday they caught him red handed at the GT Karnal road while he was on his way to meet a prospective customer with the leopard skin.
The boxer confessed that he had in the last five years killed at least 10 leopards and other small animals and sold their skins in Shimla, McLeodganj and Dharamshala of Himachal Pradesh.
The skin fetched anywhere between 3 to 5 lakh rupees.
'We have seized skin worth Rs9 lakh and have identified his partner. Our teams are raiding their various hideouts to nab him,' a police officer said.
'This was the first time they came to Delhi to sell the skins,' Chand said.
But the police man adds that Meetu is merely one of the gang members and this is a small victory. There are many more who need to be caught.
When the boxer gets severely punished for his hideous crime, only then perhaps it will send a strong message to others involved in the shady business. For the leopards, at least there is one human they have to be less afraid of right now.
More Related Stories,
Poachers Kill 2 Leopard in Uttar Pradesh
War Torn Kargil now Home to Snow Leopards
Urban Jungle No Place for Animals
Image and Reference