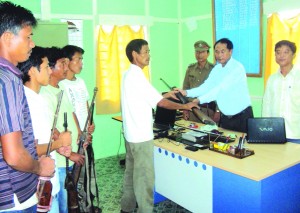 In a rare display of realization of past mistakes, five villagers of Arunanchal Pradesh, surrendered their air guns to the District Forest Officer (DFO) saying they now know the worth of their natural surroundings.
The incident occurred in Sigar and Borguli villages, situated on the fringes of Daying Ering Wildlife Sanctuary in East Siang district of India's North eastern state. The villagers said that they now realized their mistakes.
"We have realized our mistake of killing wild birds and squirrels as it was jeopardizing our environment. It is true that several species of birds and squirrels are on the verge of extinction today. We would request others as well to come forward and surrender their guns," said one of them.
The villagers surrendered their guns to DFO Tashi Mize.
The DFO said, "I appreciate this move of the villagers. I would urge the higher authorities to recognize such individuals with appropriate awards."
The Sigar village ASM, who was instrumental in convincing the villagers to surrender their air guns, said,
"Strong and determined approach, besides emotional appeals, are needed to persuade locals to shun wanton killing of wild animals.We are trying to cooperate with the department for preservation of wildlife as present the DFO is committed to bringing back the past glory of D Ering Wildlife Sanctuary."
Poaching is one of the major causes of wild animal deaths across the country. Trafficking of animal parts has become a big business with many South Asian countries willingly buying animal parts including that of tiger and bear paying huge amounts to the traffickers. Stricter laws and vigilance are crucial in nabbing these criminals but when people realise their mistake on their own accord, it makes the battle against animal crime, a bit easier.
More Related Stories,
Poachers Chop Off Tiger in Maharashtra
Snare Scare for Tigers of India
Boxer Turns Poacher to make Fast Bucks
(Visited 123 times, 1 visits today)