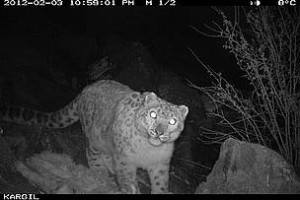 The picturesque mountains of Kargil district of Jammu & Kashmir had turned into a war ravaged valley just a decade ago and at that moment it seemed that the paradise on earth had just turned into hell. But thanks to the years of peace that followed, the mountain flora and fauna has spread its magic again and what comes as an added surprise and delight is the spotting of two shy snow leopards in these parts.
Snow leopards are one of the most elusive wild cats on Earth that shy away from any human presence. But persistent efforts of officials of WWF-India helped spot two adult snow leopards in Kashmir Valley and in an area that was a battleground not so long ago.
WWF-India field team led by Mr. Aishwarya Maheshwari captured images of the two snow leopards using infrared camera traps just a few kilometres from the line of control separating India from its neighbour Pakistan. The team had installed the cameras in mid-2010 and this is the first time that they could capture images of not one but two snow leopards roaming in Kargil. Accroding to the organization, Aishwarya had earlier captured photograph of a snow leopard preying a herd of Asiatic Ibex(Capra ibex sibrica) on mountain slopes north of Kargil town on 13 June 2009.
Panthera uncia or the Snow Leopard has a wide range. Fom Afghanistan to India's Arunachal Pradesh and extending into Mongolia in the north, straddling the high plateaus and mountains of Himalaya and beyond (trans-Himalaya). But despite the wide area, the cat is still endangered and only recently more information about its population and nature are being researched.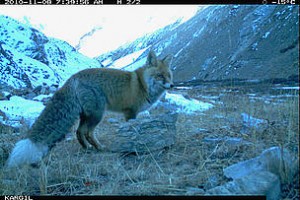 The camera traps have also captured images of co-predators like the red fox (Vulpes vulpes) and Tibetian wolf (Canis lupus chanco).
Asked if human interference is still a threat to the existence of these animals, maheshwari says,
"WWF-India is working with the communities to reduce the conflict of humans with carnivores and making them aware about the threats to wildlife. We are also sensitizing communities about the benefits of conservation. Our Snow Leopard project is a step in this direction. The support we have received from the Department of Wildlife Protection, Govt. of J&K as well as local communities in this endeavour is deeply appreciated."
As long as peace reigns in the valley, it will continue to regain its lost glory and be a home again to some very special species.
Reference & Image courtesy: WWF-India