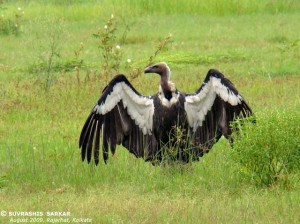 All three species of vultures found in India are on the verge of extinction and while breeding centers and vulture restaurants are helping increase the number of these dying birds, what has come as a great bit of news is the spotting of about a hundred of vultures at Hamripur district in Himachal Pradesh.
On July 17, Hamirpur assistant conservator of forest (ACF) Amit Sharma while visiting the forest areas of Bumblu and Humbal in Aghar range spotted seven to eight groups of vultures feeding on dead animal. On close scrutiny, the scavengers were found to be species of Egyptian vultures and white rumped vultures.
"We have instructed the staff to educate people not to throw dead animals near the breeding sights," said Amit Sharma.
White Rumped vultures are hardly spotted in such large numbers these days and therefore the present sighting is og huge significance.
Wildlife Institute of India, Dehradun professor Yadvendra Jhala describes their sighting important for vulture conservation.
"It is an important find as number of white rumped vulture has decreased drastically over the years," he said.
He adds that the sighting of the Egyptian vultures too is great as their numbers too have decreased in the last few years.
The major setback of rth vulture population of India came with the use of a common veterniry pain killer drug called Declofenac. The vultures that fed on animal carcass treated with the drug, died almost instantly. The drug use has been banned but there are concerns now that another drug called Aceclofenac has similar affect on vultures.
According to experts, 99% of India's four crore vultures have died in the last three decades.
This is not the first time when vultures have been sighted in such a large group in Himachal Pradesh.
In 2009 around 200 bearded variety of the species were sighted in Kibber area of Spiti valley in Lahaul-Spiti district.
"In the Himalayan region, Himalayan Griffons are common as in remote areas people do not administer diclofenac to animals, due to which vultures keep on breeding in their natural habitat," Jhala said.
It will be good for the entire ecosystem if these natural scavengers continue to flourish.
More Related Stories,
Another Painkiller Turns Killer for Vultures
14 Species of birds on the Verge of Extinction
Making Music with Animal Calls
Image source