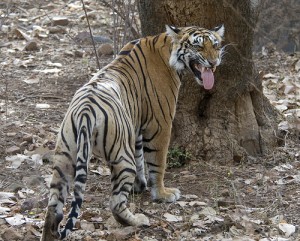 The number of tigers hunted down and killed in India in the year 2011 came down drastically according to Wildlife Protection Society of India (WPSI). Compared to 2010, there was almost 60 percent reduction in tiger poaching.
Tigers in India are not just threatened by habitat loss and fragmented forest lands, but a serious worry is the prowling poachers that kill the beast for its much sought after body parts. Not just China, the demand is high in other South East Asia countries too like Vietnam and Cambodia.
But according to WPSI which studied the number of poached tigers found last year, including seized body parts and skin, there were 13 tigers killed in 2011 by poachers as compared to 30 in 2010. This shows a 57 percent reduction in poaching.
Overall there were 61 tigers that died in 2011 and other factors of death included road accidents, infighting, fighting with other animals, electrocution, found dead and illness.
"There has been definitely a decrease in poaching cases in 2011 compared to 2010, but it does not mean poaching has stopped," WPSI's Tito Joseph said.
He added that the reduced occurrences could be because of the tightened security in tiger habitats.
"due to effective patrolling strategies adopted by the tiger authority (National Tiger Conservation Authority) in coordination with other agencies," Joseph said.
He also said that even if the numbers had reduced, the threat was always present and the conservationists had to be vigilant round the clock.
"Recently trade activities were detected in Vietnam and Cambodia. The threat is not only from China (a known hub for such trade) but also from Southeast Asian countries," he said.

"We need to be vigilant 24 hours 365 days," Joseph said.
According to U.C. Tiwari, wildlife warden of the Corbett National Park, wildlife articles always fetch a very high price in the illegal markets and therefore it was not possible to ever loosen the security in the sensitive tiger areas. He also added that the present figures only show the number of seizures and there might have been many poachers who were not caught in the act and made a successful kill.
Tiwari also added that the major threat came when adult tigers were killed.
"Because adult tigers don't die easily,… there has to be some extraordinary circumstance."
According to WPSI, of the 21 tigers found dead in 2011 many were adult tigers.
"The fact that many poachers are now lodged in jails has surely contributed to the decrease. They are still cooling their heels in different jails," the official added.
Ashok Kumar, an eminent tiger conservationist and vice chairman of the NGO Wildlife Trust of India agreed that the reason the number of tigers poached had reduced was because many of the known poachers were presently locked up.
"Our lawyers fight against them in court so they do not come out of jails. All Alwar (Rajasthan)-based poachers are today in jails," said Kumar, referring to a gang blamed for extermination of tigers in the Sariska reserve, one of the two tiger sanctuaries in the state.
The farther the poachers stay from the jungles, the better it is for the tigers.
Related Stories:
Armed Commandos to save the Tiger
Specialised Counter Poaching Training for Asia's Forest Rangers
Tigers Need more Space to Survive
Image via cc/Flickr by kkoshy