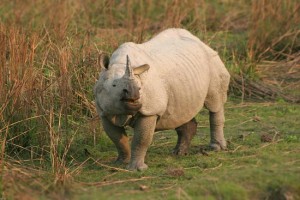 (Contains Graphic Images)Using technology for the benefit of wildlife is a relatively new concept in India. But that the beginning has been made, is clearly an encouraging development. In the remote jungles of North East India, Intel company 'sleuths' have been deployed to eradicate rhino poaching by placing camera traps and nabbing the offendors.
Kaaziranga National Park in Assam is home to two thirds of rhinoceros in the world. During the past decade 66 rhinos were killed here by poachers. While there are other problems too threatening the existence of these magnificent creatures like habitat destruction and encroachment, poaching activities are obviously the most barbaric and hard to trace.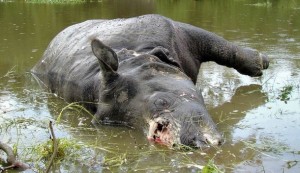 It is very difficult for the forest officers and guards to keep a constant vigil of the open borders of the park. And the poachers are well equipped too with rifles and guns with silencers helping them noiselessly commit their hineous acts in the dark jungles. They cut rhino horns and many times leave the poor animal to die of its own wounds.
But now there is one fool-proof aid that can keep a 24 hours vigil to the activities of the poachers in the forest. Camera traps have been installed in different remote location of the national park which can easily photograph and identify poachers at work.
Nowadays camera traps have been helping a lot in identifying and knowing more about wildlife. Species that are shy or nocturnal have been traced through these cameras and many candid photographs of wild cats, bigger animals like bears etc. too have been recorded using the new technology. Triggered by motion, the device clicks an image when something moves in front of the lens. Now rhino poachers too are being identified by using the device.
In Kaziranga alone, 112 poachers were apprehended between 2006 and 2010 by using the camera traps.
About the Great One Horned Rhinoceros
A few centuries ago, the Indian one horned Rhinocerous ranged across the north Indian plains in the wetlands of the rivers Indus, Ganga, and Brahmaputra. Today this survivor from the prehistoric times is found only in pockets in the north eastern state of Assam and in Nepal. In Assam, their Rhino habitat is limited to just two national parks – Kaziranga and Manas.
These animals are among the worlds' most endangered species.
Related stories:
57 Animal Species Critically Endangered in India
Endangered Indian Animals Flooding Pet Market of Thailand
Elephant saved by Being Hit by a Train in Assam
Reference: Charlotteobserver