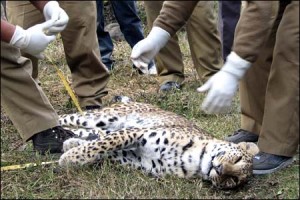 2 leopards were found dead in the Katarniaghat Wildlife Sanctury last week by forest officials. Initial investigations suggest, the act is a case of poaching.
The bodies of a male and a female leopard were found in the village of Daulatpur by Regional forest officer (Katraniaghat Range) R.K. Singh during routine combing of the Banghusri beat thickets under the Motipur range.
According to doctors the femur bone of the male leopard was broken and the neck bone of the female leopard was fractured. Judging by the way the wild cats died, they believe that it was not due to natural causes and humans were definitely involved in the killings.
Forest officials believe that poachers could be easily involved in the incident as the sanctuary lies in a very vulnerable spot sharing border with Nepal and just 125Km from Lucknow.
Presently the dog squad has been put into service to get clues about the poachers. Owner of the cane  field where one of the leopard was found has been detained for interrogation too.
Katarniaghat wildlife sanctuary is a part of the Dudhwa Tiger Reserve and located in Uttar Pradesh near India-Nepal border in the Terai area of Bahraich. The sanctuary is spread in an area of 400 kms. It was established in 1976.
Over the past few years the sanctuary has become a wonderful sustainable ecosystem with healthy prey and predator populations. There are 30 to 35 tigers reported here alongwith 70-80 leopards. It provides a strategic connectivity between Dudhwa and Kishanpur parks in Indian and Bardia National Park in Nepal.
There are a host of plant species found in the region like sal and teak  and also other important habitats like  grasslands, swamps and wetlands.
The sanctuary is also home to a number of endangered and critically endangered species like gharial, tiger, rhino, Gangetic dolphin, swamp deer, hispid hare, Bengal florican, white-backed and long-billed vultures.
Considering the extremely important role the sanctuary is playing in preservation of so many threatened species, stricter measures are needed to ensure that poaching activities can be tracked and stopped before more such brutal killings occur.
Sometimes it is also easy to put the blame on poachers, when the act may have also occurred due to rising cases of man-animal conflict. Villages and human population residing in the fringes of the forest do have a love and hate relationship with animals and leopards are especially known to enter villages to find easy prey like cattle. If the real culprits are found out, it will also help know where the problem lies and it can be resolved accordingly.