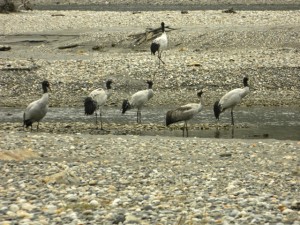 Zemithang Valley in Tawang district of India'sNorth eastern state Arunachal Pradesh is one of the two winter destinations of black necked cranes in India but last year only three of these winged guests arrived here. This year though, the arrivals have been better much to the delight of local conservationists who also spotted a juvenile crane among the group.
The seven cranes were spotted this year by locals who are involved in a community conservation effort by WWF-India. The international organization has collaborate with local villagers to increase their knowledge about conservation of the area's flora and fauna.
As a direct result of this education effort, the cranes were spotted by Lham Tsering of Pangchen Lumpo Muchat Community Conserved Area and Kokti of Pangchen Lakhar Community Conserved Area, the only two community conserved areas in the state.
The highlight of the find was the presence of a young crane among the adults who is believed to be one year old and making its first flight to India from the breeding site.
The black necked cranes are the only cranes among the 15 species of cranes found globally that prefer to live in high altitude areas.   These beautiful cranes have been oft seen in Chinese paintings.
During breeding season the cranes live in high altitude wetlands and marshes in Quinghai-Tibetan Plateau and from eastern Ladakh to Sichuan province. The wintering population of the crane is found in lower altitudes in Quinghai, on the Yunnan-Guizhou Plateau and in north eastern Bhutan.
The villagers have been actively participating in several conservation programmes in the area that are helping protect species like Himalayan bear, red panda, musk dear, snow leopards etc. In the valley there is a religious ban of any kind of hunting and documentation of Black Necked Crane and the efforts this year by villagers is a part of their effort for the conservation and documentation of rich biodiversity of the area.
The presence of the cranes has also given a boost to the tourist influx to the area and villagers have set up campsites and home stay facilities in Lumpo and Muchat villages for tourists with the help of WWF-India. the cranes will probably stay for another month and then fly back to their homes.
The black necked cranes are enlisted as vulnerable by IUCN and are deemed threatened by Birdlife International. They are categorized as a Schedule I species under the Wildlife Protection Act (1972), of the Government of India.
Related Stories:
Road Through Rann may ruin Flamingo Population
Himalyan Bird to get Advanced Breeding Centre