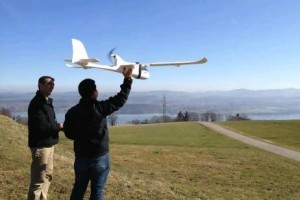 Unmanned aerial vehicles or more popularly called drones have long been used to detect terrorist activities with accuracy and target enemy ships or soldiers. But what conservationists all over the world are now trying to do is use the same mechanism to help animals in danger.
From the jungles of Nepal to the invasive aquatic plants of Florida, the drones are being used by conservationists to fly over difficult terrains and canopies in order to get useful information about the ecology of an area, as well as to keep a tab on poachers.
Activists of the Sea Sheppard conservation society launched a drone a in December to check on Japan's whaling ship out in the sea. It was an attempt to pin point the ship and force Japan to stop its annual whale hunting program in the Antarctic waters.
Percival Franklin at the University of Florida says that drone can be used very effectively for conservation. These unmanned remotely controlled crafts fill the gap between satellite images and manned aircrafts.
"The potential uses are almost unlimited," said Ian Singleton, director of the Sumatran Orangutan Conservation Programme, testing drones this year over Indonesia's Tripa peat forest where fires set by palm oil growers are threatening the world's highest density habitat of the great apes.
How the Drones Operate
The drones can be operated and controlled by one main computer called the board computer or under remote guidance of a navigator. There is no limit to the size of this machine. It can be less than a kilo or may weigh more than 20 tones. The main advantage is with the ease with which these machines can reach places where humans and manned aircrafts can't.
In recent years the US military has used drones extensively to look for terrorist activities in different parts of the world. They have also been used for firefighting, checking over hurricane affected areas and for road patrolling.
Species Conservation
That drones are being utilized in the wild world, is wonderful news. It gives crucial information without the need of a human patrolling difficult and dense forest covers.
According to Lian Pin Koh, a pioneer eco-drone user and a conservationists who is an expert on tropical deforestation, the idea of using a drone first came to him while he was sweating it out in the jungles of Sabah in Malaysia with tones of heavy equipment burdening his shoulders for the field work.
"I told my assistant, who happened to be my wife, 'How wonderful it would be if we could fly over that area rather than walk there again tomorrow,' " he recalls.
The naturist got busy and soon was using a drone to do the same tedious task more conveniently. Koh built his drone himself, something that was perfect for a conservationists' use but was a lot cheaper than the US version of drones.
Koh and partner Serge Wich bought a Chinese made model plane, added an autopilot system, open source software to programme missions, and still and video cameras. The drone cost was about $ 2000 or roughly Rs. 90,000.
It was ten times cheaper than the commercial varieties!
This year, they have flown more than 200 mostly test-runs in Asia using an improved version with a 6.5ft wingspan, air time of 45 minutes, and a 15.5-mile range.
The drones were flown over Malaysia's forest where it is difficult for even elephants to tread. They were also used by WWF and Nepal army to detect rhino poaching activities in Nepal's Chitwan National Park.
Graham Usher of the Sumatran project says drones can give them valuable information about orangutan nests in the forest and id in counting the population. From higher altitudes the drones, he said, also provide high-resolution, real-time images showing where forests are being cleared and set ablaze.
If the same tasks are performed from the ground, they are time consuming, cumbersome and also expensive. Usher says that a conventional orangutan census in Sumatra, which may also involve helicopters and aircraft, costs some $250,000. In comparison a drone is almost 10 times cheaper.
The only major drawback of using a drone is that it needs a clear landing place and that might be difficult in a forest terrain. But Koh is trying to improvise and add a parachute to his design so that the drone can softly land on any vegetation.
Drones in India
For India, where the drones have not yet been tested or used, the potentials are immense. Here are a few things that can be done,
With the Western Ghats being declared as a world heritage site, the entire biodiversity hotspot needs constant protections and patrolling and this can be made feasible with the use of drones.
The tiger poaching cases in different forest covers can be checked and controlled to a large extent if drones are frequently flown over protected national park.
Population census of shy animals like the Critically Endangered Great Indian Bustard can be done smoothly without disturbing the birds.
In flood like situations like the recent devastating floods of Assam, drones can be life saviors, giving accurate location of stranded animals increasing the reach and helping them in time.
Forest fires can be checked more rapidly.
Human-animal conflict can be reduced drastically, by checking animals that come too close to a human habitation.
The possibilities really are endless if only we are willing to invest in these mechanisms. As one innovator calls it, it is the 'dawn of drone ecology' and India must harness its potential for conservation.
To know more about Lian Pin Koh's work, visit his website conservationdrones
More Related Stories,
Censor to Save Jumbos from Being Hit by Trains
Camera Traps helping Catch Rhino Poachers
Innovative Tree Climber Helping Save Vultures in Gujarat
Image courtesy TheNational, the9billion and Orangutan.com