The Constitution of India states,
"It shall be the duty of every citizen of India to protect and improve the natural environment including forests, lakes, rivers and wildlife and to have compassion for living creatures."
India is one of the few nations of the world that has such a systematically defined fundamental duty set for its citizens in the country's constitution. And yet, the flora and fauna of the country keep losing the battle of survival everyday as India races to become an economically sound and technologically advanced country.
India's Endangered is a website about endangered plants and animals of India. It is an attempt to highlight the present status of these species through news, views and valuable information so that people are aware and with the economic progress the ecological responsibility is not forgotten.
Follow us on Twitter
Like us on Facebook
About the Founder & Editor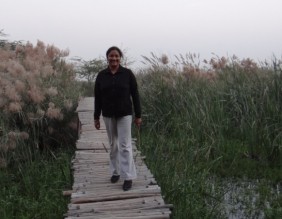 Atula is a content creator, science writer, editor, blogger and columnist.
She is the Founder & Editor of India's Endangered. She is also the Content Head of Junior Explorers, a company helping kids connect with wildlife & nature through a fun, educational and interactive experience.
She started her career as an advertising copywriter winning a number of national and international accolades in a short span. Gradually, she moved to content writing based on nature, environment and wildlife. She wrote for magazines like Heritage India and Chandamama.
Atula founded India's Endangered in 2011, an award winning website that has helped highlight conservation issues in India. She has since written environment columns for a number of Indian dailies and magazines. Her books, Environment Science Essentials, Level 1-6, for school children were published in 2013.
You can reach Atula through her Twitter page or contact here.