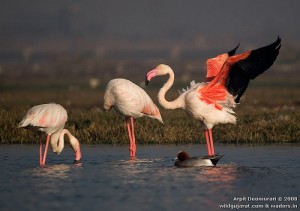 The beautiful flamingoes feeding and breeding in India's Western state of Gujarat are the latest wildlife species that may soon lose their homes to urban development. The state government has plans set to construct a concrete road right through the Kutch wildlife Sanctuary, jeopardizing the lives of flamingoes and wild ass population of the area.
The area under threat is known as the only breeding colony of flamingoes in India. As per reports, the Widlife experts associated with National Board of Widlife had firmly said no to the project when the proposal was brought for discussion.
The mudflats of Rann of Kutch is a unique habitat home to some endemic species of India. Nowhere else in South Asia, both greater and lesser flamingoes congregate for breeding. The habitat is also renowned for its wild ass population.
The new road plan though could directly kill the entire fragile ecosystem, in turn harming the flamingoes, wild ass and many other flora and fauna of the area.
According to the plan the road will traverse,
– Tangdi Bet, the main refuge of wild ass in the Great Rann.
– An unusual mangrove system in the world, sacred forest of Shravan Kavadia.
– The Dholavira ruins, the fifth largest site of the Indus Valley Civilisation and yet no clearance for the proposed road has been obtained from the Ministry of Culture.
Conservationists are shocked and alarmed with the project.
Says Valmik,"This is like saying yes to a project that will destroy the Taj Mahal."
 According to a report presented by wildlife experts, "The proposed alignment would result in stoppage of water within the Rann… The team is of the unanimous opinion that this road must not be built as it entails a huge financial and ecologically unacceptable cost."
The decision to construct the road will be taken by the Standing Committee of the NBWL, chaired by Jayanthi Natarajan, India's Enivornment Minister.  All eyes are now on the NBWL meeting and whether Jayanthi Natarajan will listen to the wildlife experts.
Let's wait and watch.
Related Stories:
Mining a death Knell for Great Indian Bustard
Rare Flock of Vulture Spotted in Assam
Gujarat Plans to Create First Gene Bank of Wildlife in India
Reference: ibnlive