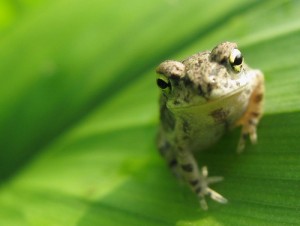 Not everyone might appreciate the 'croak-croak' of a frog, but few researchers from India are listening to these amphibian sounds night and day to better understand the affect of climate change on these species.
Indian scientists in the forests of southern Western Ghats are monitoring frog songs for the first time, using automated sound recorders to understand how amphibians are being affected by climate change and global warming. The method of recording their sounds has only recently been standardized.
Heading the project is Seshadri KS who won the Conservation Leadership Programme-Save Our Species with senior fellow Ganesh T at Ashoka Trust for Research and Ecology.
The researcher came up with the idea of following frog songs when one rainy day three of them were 100 feet above the ground sitting on a tree shelter for canopy research at Kalakad Mundanthurai Tiger Reserve.
As toads and frogs are affected by the changes in atmospheric pressure, moisture content etc. the team thought that by recording sounds of the frog, they could analyse and correlate it with climate data readings.
"Amphibians have long been considered to be the barometers of the climate any subtle variations in the atmospheric conditions like moisture availability and temperature is likely to have profound impacts on them' said Seshadri.KS.
For the research the team is using programmable automated sound recording device called Song Meter and coupling it with an automated weather data logger device. Over the past two years the researchers have successfully gathered lots of sounds during the South West and North East monsoons.
Amphibians are at a great risk of getting extinct around the world and the main reason for the tragedy is loss of habitat, fungal infects and climate changes, said the researcher. At times like these when world over many researchers are trying to find out the affect of climate change on various animals, in India very little is yet known.
So long term monitoring will be invaluable feels Seshadri. He explained that the frog song can be the unique element that will help scientists in the future.
"For example, some frogs vocalize in a wide window of time while some, are active for a very short window of time, may be for a few weeks. If the climate change predictions are true, amphibians should negatively be affected. By monitoring the vocalizing activity , we can come up with an activity calendar for each of the indicator species. Using this information, we can discern the changes in observed patterns and interpret it in the context of climatic variations . This is the goal of the project," he added.
The team re-discovered the bubble nest frog, which was last spotted 136 years ago while working on their study. They also spotted Beddome's toad that was seen almost a decade ago.
The initial results of their study were shared at the International Congress for Conservation Biology in New Zealand held in December.
We will await the results of the study.
Related Stories:
Scientist find 12 New Frog Species in India
10 New Frog Species Discovered in Western Ghats
Increased Frog Leg Demand Pushing Amphibians to Extinction
Image via cc/Flickr Sachin Sandhu