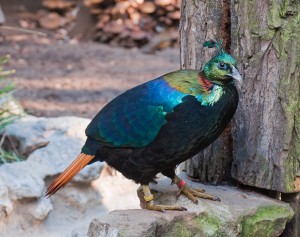 The Himalayan Monal, Lophophorus impejanus also known as the Impeyan Monal or Impeyan Pheasant or Danphe is soon to get an advanced breeding centre in Manali after the Central Zoo Authority approved the proposal. The plan pending for a long time will help the state bird of Uttaranchal get greater protection and hopefully help increase its number.
The centre to breed the Monal was in planning stage since 2009 but due to lack of funds the execution was taking time. Now the advanced centre plans have been finalised that will have cameras installed in the cages to observe the birds at all times. The birds will be named and their case study would be prepared right from birth.  
At present there are around 5000 monals in Himachal Pradesh while the Manali centre has five pairs.
Divisional forest officer (wildlife) B S Rana said, "this would definitely prove a vital step in the conservation of the Himalayan monal. They would get a new life after this move."
He adds that the cages would be made in such a way that heavy snowfall does not affect the birds.
Adult male monal birds have a multicoloured body and a long crest. Female are dull in colour. Among the pheasant family monal find a prominent place because of their large size. The range of these birds is from Afghanistan, Pakistan, India to Nepal and Burma. They are the national bird of Nepal. In India the birds are found in Uttarakhand, Himachal Pradesh, Arunachal Pradesh and Sikkim.
The main reason that these birds need protection is poaching. They are hunted mostly for their crests.
Says Great Himalayan National Park director Ajay Srivastava,  "A number of monals have been killed merely to obtain their beautiful crests. They breed between April and August but their numbers have declined in recent years."
Other reasons for its decline have been habitat destruction and increasing pressure on forests.
Related Stories:
Western Tragopan spotted in New Ranges in Kashmir
Uttarakhan captures its First Snow Leopard on Camera
Article reference: TOI
(Visited 462 times, 1 visits today)