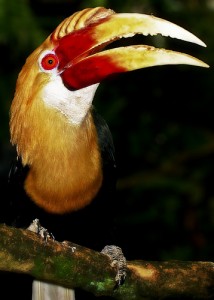 On the foothills of the eastern Himalayas in the State of Arunachal Pradesh lies Pakke Tiger Reserve. The park is proud to have four resident hornbill species but the area is also home to the Nyshi tribe, whose illustrious headgear includes a hornbill beak. But now fibre replicas of the beaks have helped save the birds from being killed for their beaks, at the same time also saving the age-old identity and headgear of the tribe.
The nyshi tribe is one of the largest tribal settlements near the Pakke Tiger reserve. These tribesmen pride their headgear which consists of hornbill beak and feathers. The headgear is not just a symbol of their tribe but also a declaration of fertility and a rite of passage, thus being an important constituent of their traditional wear.
Hornbill is the state bird of Arunachal Pradesh and a much loved species. There are four hornbills species – great hornbills, wreathed, oriental pied and the rufous-necked, listed in Schedule l of the Wildlife Protection Act (1972), found in the Pakke tiger reserve.
Each year thousands of Nyshi men used to hunt hornbills to gather their beaks which led to drastic population reduction of the birds. In 2000 a local forest officer Choku Loma, came up with an idea of using artificial beaks as headgear. The idea was formally presented to an NGO Arunachal Wildlife & Nature Foundation which collaborated with Wildlife Trust of India to develop the fibre replicas.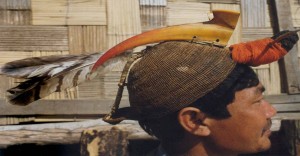 The replicas were presented to Senior leaders and village elders and soon local artisans were trained to create these artificial beaks. Thanks to the efforts, by 2004 many of the Nyshi men willingly donated their original beak and accepted the replicas. Thereafter it was decided to impose a 5,000 rupee fine for anyone caught killing hornbills.
Presently Loma gifts an artificial beak in exchange of the original to those who promise to spread awareness to protect and refrain from wanton killing of wildlife.
Hornbill Nest Adoption Programme
The present District Forest Officer Tana Tapi has also come up with a unique idea to save the hornbills. He initiated the hornbill nest adoption programme that will allow locals and visiting tourist to care for the nesting birds. The programme has increased tourist inflow and is also attracting visitors from other countries to the Pakke reserve.
He said that the hornbill nesting habitat is being degraded because of loss and shortage of nesting sites outside the protected areas.The programme would extend protection and monitoring efforts outside the park with the involvement of the locals.
In all 14 nesting areas have been selected for the programme.The Nature Conservation Foundation is funding the project and supporting field staff while Tapi plays advisory role and the department facilitates appointment of nest watchers.
With innovative conservation ideas and the collaborative efforts or locals as well as forest officials, Pakke tiger reserve is one of the best protected forest reserves of India.
Related Stories:
Black Necked Cranes Spotted in Arunachal Pradesh
Researchers Find 341 Species of Birds in Kerala
Headgear image via PakkeTiger Reserve Wreathed Hornbill image via Flickr/creativecommons Schristia