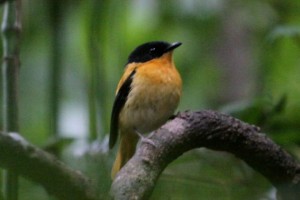 A first time ever dedicated ornithological survey carried out for a year in the Malabar coast of the country by forest department of Kerala has found that there are 341 species of birds in the region with many endemic to the area.
The survey was headed by C. Sasikumar, the Chief Investigator, and his four research associates, C.K. Vishnudas, S. Raju, P.A. Vinayan and V.A. Shebin. The team spent almost a year during which they covered 4000 km of forest area.
The forest areas studied are the Silent Valley National Park, Mannarkad forest division, Nilambur North and South divisions, the Malabar Wildlife Sanctuary, the Wayanad Wildlife Sanctuary, Aralam Wildlife Sanctuary and their neighboring areas as well as the Reserve Forests of Kasargode district and the wetlands of North Malabar.
22 Globally Threatened Species
Of all the 341 species of birds the surveyors could also identify 22 species that have been listed as globally threatened by the IUCN. Alarmingly, of the 22 threatened species 17 are residents and, of which 9 are specifically endemic to Western Ghat. 15 species of birds are found to be abundant in the region, of which two are migrants, and one endemic. They include Yellow-browed Bulbul, Small Sunbird; Green Leaf-Warbler, Large–billed Leaf-Warbler and the three species of Bulbuls including the Black Bulbul.
15 species were found to be rare with only one sighting for each like the Syke's Warbler, Indian Grey Hornbill, Jerdon's Bush Lark and Sirkeer Malkoha.
The 341 species of birds surveyed comes to 73.27 per cent of all bird species so far recorded from Kerala. The survey could successfully estimate the density of 48 species of birds. They found Yellow-browed Bulbul to have the highest density.
The two critically endangered vulture species, the White-backed vulture and Red-headed vulture, were also sighted in Wayanad Wildlife Sanctuary, the only region in Kerala that supports these vulture species
This comprehensive survey gives information of many birds species in detail and the researchers hope the exercise becomes a benchmark for others to follow all over India.
Images of the birds recorded during the Malabar Ornithological survey conducted by the Kerala forest department. Photos: C.K. Vishnudas and E.M. Manoj
Related Stories:
Innovative Tree Climber from Kerala helping save Vultures of Gujarat
Himalayan Bird to get Advanced Breeding Centre
Jerdon's Courser: A precious Rarity
Reference: thehindu