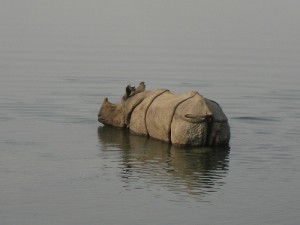 To save the One-horned Rhinos from the annual floods of the river Brahmaputra in Assam, the state is all set for trans-location of the animals from Kaziranga national park to Manas Tiger Reserve.
The flash flood of the river Brahmaputra every summer leads to numerous animal deaths every year. To curb the losses therefore this time Assam Forest department, along with WWF and US Fish and Wildlife Services is planning its second round of translocation. The first such kind of movement of the rhinos was done in early 2011 in order to revive the population of the one-horned rhinos in Manas.
The one-horned rhino is classified as Vulnerable by International Union for Conservation of Nature (IUCN). Its population experienced a drastic blow a few years back when none of the rhino was found in Manas tiger reserve owing to increase in militant activities of the Bodo group. Although the park had been given the Unesco World Heritage site tag for its scenic beauty and diverse wildlife, it could not maintain its resplendent beauty because of the growing militancy. But in recent years various efforts have been done to return the previous glory.
The present translocation effort is part of the programme 'Indian Rhino Vision (IRV) 2020', which aims to have a population of about 3,000 wild rhinos in the state of Assam by 2020.
To motivate the staff towards the protection of the rhinos, WWF-India and Assam State Forest Department have jointly launched 'WWF-Assam Forest Department Vanya Prani Mitra Awards,' which was given to four forest staff of the Assam State Forest Department for their exemplary service
Last year the translocation was done from PobitroWildlife sanctuary a few kilometers from capital Guwahati which has the highest density of One-horned Rhinos in Assam. But this time Kazirangan rhinos have been chosen to begin their life in the new home in Manas.
About Manas National Park
The park derives its name from the river Manas, a tributary of Brahmaputra which passes through the forest. It is known for its rare and endangered endemic wildlife such as the Assam roofed turtle, hispid hare, pygmy hog and wild water buffalo.
The place is also known for its primate diversity as the capped langurs, golden langurs, Assamese macaques, slow loris and Hoolock gibbons have been recorded here.
Related Stories:
Camera traps helping Catch Rhino Poachers
17 Species to get help from becoming endangered and Extinct
Manas National Park becomes New Home for Orphaned elephants
Image via cc/Flickr Wonker