It is sometimes said, 'A crazy idea can change the world' and if someone can prove this to be true, it has to be two young Indian men, who thought of making their country greener through what they call Project 35 Trees. Armed with plant saplings and perched atop public transport vehicles, the two travelled across all states of India to plant trees and leave a message of hope.
Project 35 Trees, started when 26 year old Hari Chakyar got inspired by the nature club in his college and started planting saplings in Ambarnath, his hometown.
"80 of those trees are growing really tall today," he says with satisfaction.
He shifted to Mumbai as an advertising professional and it is then when the idea began to take a larger meaning.
"The idea of a pan-India campaign, which involved visiting all the 35 states and union territories of India evolved. Hence the name," he says simply.
Hari contacted Ryan Thomas, a college mate who ran an adventure company who in turn helped in connecting with Anthony Karbhari, a filmmaker.
"We became a duo. I would plant saplings and he would shoot mini videos of us. Together, we set off meeting school children and planting trees with them," Hari says.
Project 35 Trees
The first trip the duo made was to Naroda Patiya in Gujarat in October 2011. Here they planted their first tree. The next trips were to Daman and Hyderabad. The two would leave on weekends and be back in Mumbai for work by Monday. But the weekend trips could not keep up with their bigger pan India plan.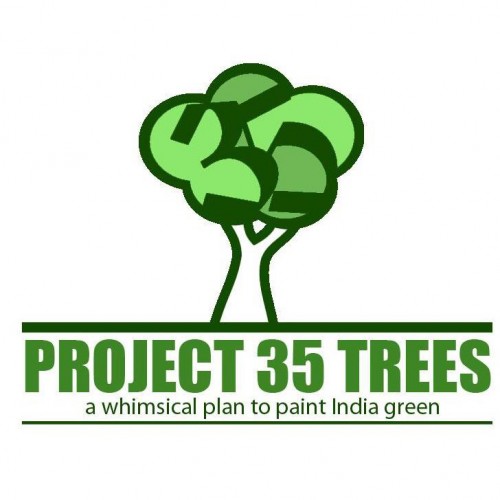 Hari tells TOI,
"We were meeting a small number of people and spending too little time with them. At this pace, we would need a year to complete the project. Anthony pushed me to ask my ad agency if they would let me have 4 months off and they relented," he says with a tone that spells wonder.
The project was crowd-funded and Wishberry.in was roped in.
"Our stakeholders helped us generate a little over two lakh. We wrapped up our entire tour in that money, which is a record in itself," he says.
The full time project began on October 10, 2012 and ended on January 19, 2013, with the two successfully planting hundreds of trees across India.
"We've met students and planted trees in Daman, Silvassa, Baroda, Indore, Jaipur, Delhi, Amritsar, Jammu, Chandigarh, Manali, Dehradun, Agra, Patna, Gangtok, Guwahati, Shillong, Kohima, Imphal, Aizwal, Agartala, Kolkata, Andaman, Jamshedpur, Bhilai, Bhubaneswar, Secundarabad, Chennai, Madurai, Kerala, Karnataka, Goa and finally, Mumbai. All of these are milestones on their own," he says.
102 days, 195 saplings
What made the project even more note worthy, was the duos intentional effort to use only public transport vehicles like trains, buses and autorickshaws. They also understood the value of the funds being offered to them for the trip and instead of spending on hotel accommodations, stayed with local families in each city. This only made the trips more memorable.
"We used trains, buses, tuktuks and so on. To begin with, we had to find hosts in every place we went to, to help us cut down on costs. We didn't want to spend our crowd-funded money on hotels. Moreover, living with local families meant we could get a taste of local food and culture," Hari explains.
"We've lived with strangers and made them family. We now have mommies all over India. A lot of people share with us the idea of travelling all over India. Many of the elders we met said they have wanted to do it when they were in college. Many asked us to keep them posted on future trips," says Anthony.
They also met forest conservators while on tour.
"Once they got to know that we were not affiliated to any organization with vested interests, they got excited and helped us with free saplings from the government nursery. They also gave us advice on which variety should be planted where as India has varied climates."
But the biggest connection was with students from different educational institutes of India who helped them realize their dreams and also promised to take care of the individual trees once they planted it in their school compound.
Hari believes young students have a much broader ability to accept good values without prejudice.
"Going from a polluted city to a peaceful forest is a lovely experience. Trees absorb pollutants and help with rain. Students understand this without prejudice," he says. "I believe we've have gotten many of them to think about environmental problems. All the kids have promised to take care of the trees they planted."
 
"It is necessary for the next generation to feel for the environment since we depend on them to protect our natural resources."
The only challenge during the journey was the inability to go to Arunachal Pradesh and Lakshadweep.
"In Arunachal, the students union had elections, and they had called for a bandh both times we tried going there. As for Lakshadweep, someone from those islands has to invite you to get a visitor's permit," Hari explains.
Epic Tale?
Back in Mumbai, Hari says the trip helped them learn a lot at the grassroot level. He also adds that while it may be too early to think that the trip has made some concrete changes, he hopes that the students have been inspired to do something similar on their own.
"We are just two people from India who set out to paint India green, one tree at a time," Anthony says.
He is now planning to make a documentary film out of all the footage. This film will then be sent out to all the schools visited.
The other Tree planter is writing a book chronicling their epic journey.
Hari says, "It's not much of a book actually, but I had been taking notes on the journey, and I just want to compile it. It will be an e-book, of course! It doesn't make sense if trees are cut to print a book about planting them!"
Project 35 Trees website message says – The best time to plant a tree was 20 years ago. The second best time is now.
With that the two hope, and we could not agree more, that the germ of a good idea has been planted in many more enlightened minds.
If you wish to connect with them, you can visit their Facebook page or through twitter.
More Related Stories,
70 Percent Indians think Animals need More Protection