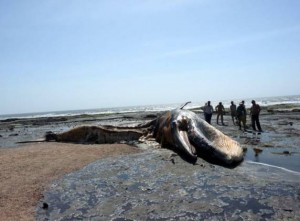 Last month two Giant Baleen Humpback whale sharks washed ashore dead on the Mumbai-Thane coast. Earlier a Bryde's whale shark was found at Ratnagiri shores, 250 km away from Mumbai. With dead dolphins and Olive Ridley Turtles also spotted at regular intervals on the coast of Maharashtra and other south-west regions shores, there is fear that the deaths are not natural but caused by human errors.
In the past couple of months dozens of dolphins have been found to be washed ashore on the Konkan coasts of India many of which have still retained their untouched beauty. Experts say that these deaths might be due to chemicals or oil spills.
"All these instances are not natural. There's something more serious than we are aware of and it needs a detailed probe," said Vishwas (Bhau) Katdare, who is spearheading conservation efforts for turtles, vultures and other animals in the Konkan through the NGO Sahyadri Nisarg Mitra.
He added that there are some turtles or sharks that get entangled in fishing nets, but under most circumstances the fishermen release the creatures back into the sea.
"Most of them are saved as the fishermen disentangle them and release them back into the sea and hardly one or two of the unlucky ones may succumb. We get one or two such instances in a month," Katdare said.
But in March this year, conservationists raised there concern when more than a dozen adult and juvenile Olive Ridley turtles were found dead on the Konkan coasts. There were also reports of other species of turtles found stranded on the virgin beaches.
What the experts fear might very well be true as was discovered by school teacher Mohan Upadhye through an ill-fated incident in Ratnagiri,
"I had taken my two pet dogs to the beach for their morning walk. There, out of curiosity, they happened to lick a carcass of a turtle lying on the beach. Around three hours later, they both mysteriously died at my home. I have no clue as to what happened," Upadhye said.
He also added that two cows also mate the same fate when they habitually licked a turtle carcass on the beaches in Shriwardhan and Dive-agar.
Himanshu Shah, director, Nature and Adventure Centre voiced his concern,
"This reeks of chemical or oil poisoning. In the past few years, Mumbai and surrounding coasts have witnessed many sunken ships, oil spills and other forms of assaults by humans on nature. This could be one of the reasons for the large number of sea animal deaths on beaches and a warning that we cannot continue to tamper with the natural surroundings,"
Katdare adds that the worst aspect is that the dead creatures are not being studies scientifically to know the correct reason of their death.
"The worst aspect is that the scientific autopsies of these dead creatures are not being carried out to ascertain what could have caused so many deaths in such a short period, whether it is pollution or chemical poisoning or some other reasons," Katdare pointed out.
He said that his organisation and other NGOs had really struggled to increase the population of turtles in the area and these untimely deaths were only making matters worse.
"In the past 10 years, we have managed to save over 35,000 turtle eggs from natural and human predators here and released them safely into the Arabian Sea," Katdare said
The Konkan coasts stretching along India's south west shores and bordering the Western ghats is a beautiful habitat which for centuries has been the nesting grounds of Olive Ridley turtles, sea green turtles and other turtles in the world.
Shah said that if at all the chemical wastes discharged into the Arabian sea, ship wrecks and oil spills was found to be the problem, the problem needed to be sorted immediately as the next threat could be on human lives.
"Currently, it is these mute and innocent sea animals. The next on the list could be humans," Shah warned.
More Related Stories,
Ship Strike Killing Marine Animals
Injured Olive Ridley Turtles Saved and Released into the Ocean
Ghost Fishing Scare at Gujarat Coasts
Image via Deccan chronicle