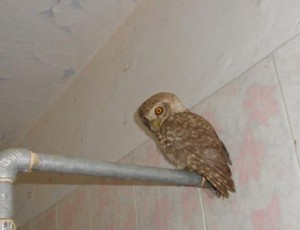 For Swami Mahadevanand Saraswathi life is sacred, no matter if it is that of a human or an animal. It is this belief that led him to rescue two critically endangered forest owlet from a cage and keep them safely at his home in Varanasi until rescuers from UK helped him release the birds into the wild.
Swami Mahadevanand Saraswathi lives in the Varanasi in Uttar Pradesh, one of the holiest cities in the world. When he saw two forest owlets trapped in a cage, the monk immediately rescued the birds and brought them home.
But not knowing how to care for the birds, Saraswathi then used the internet to search for more information about the owls and their rescue. It was then that he found out about an UK based organization – The World Owl Centre at Muncaster Castle.
Saraswathi contacted head keeper Wulf Ingham who advised him how to care for the birds and what he needed to do before releasing the critically endangered birds back into the wild.
After establishing they were Forest Owlets, Wulf advised the monk to feed them raw chicken and ensure that they were able to fly well before letting them go.
The owls are native to the forests of central India and are critically endangered due to increasing logging operations, burning and cutting of trees, and damage to roosting and nesting trees.
There is also an interesting story as to how these birds were rediscovered in India after they were believed to be extinct when none were seen for more than a century. When not sighted for decades, posters were printed and Salim Ali, the premier ornithologist of India made a public appeal to look for the bird. After 113 long years, the owlet was rediscovered in 1997 and reappeared on the list of Indian birds.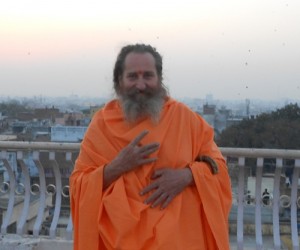 Swami  Mahadevanand kept the owlets in his home bathroom safely and in spite of being a strict vegetarian, fed them both raw chicken.
" It's so hard in India for living things to survive, so it's nice to see mother nature win once in a while. I love owls and it's wonderful to just hang out on the steps next to the Ganges and watch them in the evening," says the sage.
He adds, "I managed to find the World Owl Trust website via the internet and they quickly came to my aid. I can't thank them enough for their help in getting the owls back to where they belong."
The World Owl Centre at Muncaster Castle is home to 200 owls from around 50 different species and sub-species. From the biggest owl in the world – the European Eagle Owl – to the tiny Pygmy and Scops Owls, a range of these birds can be found at the centre.
Wulf Ingham says, "We were so pleased that Mahadevanand contacted us. He had done a fantastic job rescuing and looking after the owls; it was a pleasure to be able to help. These birds are critically endangered so ensuring they are released back into their natural habitat is vital for the continuation of the species."
Once Swami Mahadevanand felt that the owlets were healthy and flying well, he released them back into the jungle.
If only we had more people like him.