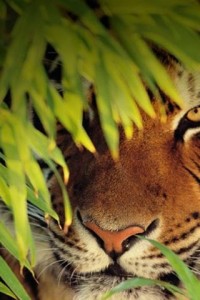 The 800 sq. km of Corbett National Park in Uttarakhand is now ready to fit in to a small tv screen. India's first national park has now also become the first reserve to be equipped with E-eye high-tech infrared and thermal imaging cameras, that will allow 24×7 surveillance of the tiger reserve.
Challenged with acute man-power shortage the National Tiger conservation Authority (NTCA) launched a pilot project where the tigers of the park will be constantly under the watchful eyes of the camera allowing greater observation of the animals in the forest.
The project 'E-eye' (electronic eye), whose estimated cost is around Rs3.5crore, was started around six months ago when ten high-tech cameras having infrared and thermal imaging capabilities were installed on 10-20 metres high towers. The cameras have been presently installed in the southern zone of the park bordering UP where maximum cases of poaching has been registered.
Presently covering a 350 sq.km area the cameras detect anything weighing more than 20 kgs and send immediate send signals to the control rooms. The camera can zoom, tilt and work in adverse weather conditions.
NTCA's deputy inspector general SP Yadav has been controlling the cameras sitting in Delhi – almost 300 km away from the park. He says,
"Nothing can match human patrolling but we have got fantastic results from this project in the last six months as infiltration incidents has come down drastically. We have successfully checked movement of villagers and on one occasion a tractor involved in illegal mining in the park was also caught."
He adds that the two main advantages of these cameras are that they are replacing the shortage of almost 1500 field staff and they work non-stop which is a huge benefit.  At current the control room is at Corbett but NTCA plans to set up another control room as Delhi.
The positive impact of the E-eye is already being felt. Poaching cases and cases of unauthorized personnel or vehicles entering the park have already lowered down.
"Whenever an alert about any unauthorized vehicle or infiltrators is received, a rapid response team rushes to the spot to check it. E-eye has created fear amongst locals because of which they have stopped entering the protected zone. This is all what we wanted," Yadav said.
"It is for the first time that such a thing has been done. Nowhere in world is such system used in a national park. We will monitor it for one year before we take a final call for doing it at other reserves across the country," he added.
Yadav says that the project shows a promising future. It can be used to curb other problems like human-elephant conflict apart from constant surveillance of the forest dwellers.
Next time you are at Corbett for a tiger safari, keep an eye on the E-eye too.
More Related Stories,
New Site gives everyone a Chance to Count Tigers
Tiger Poaching goes Down in 2011
Tiger Numbers Increase in Assam
Image by Leopard print via cc/Flickr