Octopuses were recently spotted in the serene backwaters of Kochi. If you are asking why this is odd it is becausejust like freshwater fishes cannot survive in saltwater seas and oceans, and vice versa, octopuses too cannot live in freshwater. Their presence in the backwaters of Kerala is only a proof, that these freshwater arteries of a verdant state are becoming more salty.
Octopuses have made sudden appearances in the water bodies of Champakkara, Panangad and Kumbalanghi in the district. Fishermen have found not one or two but quite a few octopuses from these freshwater riverines.
Scientists are now puzzled at the presence of these octopus as it is the increased salinity of Kochi backwaters that might have led these marine creatures to easily survive here.
According to K. Sunilkumar Muhammad, Head of the Molluscan Fisheries Division of the Central Marine Fisheries Research Institute, Kochi, he identified one of the caught octopuses as Amphioctopus neglectus.
Says the expert,
"The presence of the marine species in coastal waters is due to the increased salinity of the area, which would be similar to the marine environment. The level of salinity would have reached 35 ppt (parts per thousand) by now, equivalent to seawater. Sardines, another marine fish, were earlier reported from Champakkara."
B. Madhusoodana Kurup, the Vice-Chancellor of the Kerala University of Fisheries and Ocean Studies, Panangad, said the salinity of the Kochi backwaters could be at par with Arabian Sea these days.
The reasons cited are,
Strong tidal actions
Absence of rain and freshwater influx
Dr. Sunilkumar believes that the probable migration of octopuses could be due to increased population in marine waters. It could also be due to easier availability of food in the backwaters, with less competition.
Dr Kurup adds, usually the salinity variation in water between high and low tides deter marine organisms from coming to backwaters for feeding. The changed situation would invite more marine organisms hitherto unreported from here during the rest of summer months.
Jumbled Habitats
Marine species and freshwater species are used to living in their separate habitats. They are both aquatic creatures but there is a world of difference in the way they breathe, feed and exist. It has a lot to do with the salt content of the water they are living in.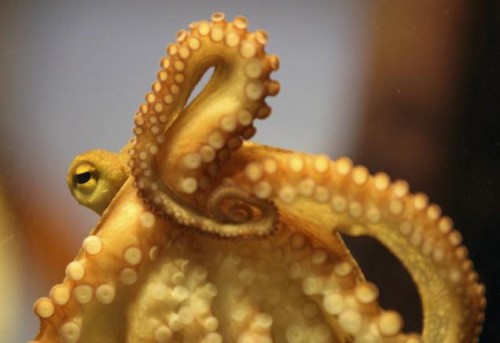 The reason why saltwater fishes cannot survive in freshwater is that the less salt in the freshwater around them forces their cells to burst or stop functioning. Same thing happens if you forcefully put a freshwater fish into salty seas or oceans. It is fatal to change their habitats.
The octopus from Arabian Sea on the other and are being caught frequently and have been seen to survive in freshwater riverines of Kerala. It is a critical situation because this also means that the freshwater species already present in these waters, might be finding it hard to survive.
The present scenario needs more attention, and proper study to ensure that all creatures big and small can occupy the habitats and homes they are meant to. One imbalance can definitely trigger a number of unwelcome changes.
More Related Stories,
Ship Strike Killing Marine Animals
Injured Turtle Saved and Released Back to the Ocean
Western Ghats Aquatic Species plunging Towards Extinction Warns IUCN
Reference and Image.