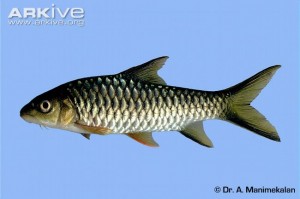 The Mahseer or Deccan Mahseer is an indigenous species of fish which was found in the Indrayani river flowing in India's western state of Maharashtra. The fish was last sighted 14 years ago until it disappeared due to excessive pollution of the waters and urbanization. But thanks to the efforts of a conservation organization, today the fishes have again made Indrayani their home.
Mahseer (Tor khudree) also known as black mahseer is a freshwater fish belonging to the Carp family. It was listed as endangered by International Union of Conservation of Nature (IUCN). It is also found in Himachal Pradesh in the Kaveri river and in parts of Nepal. Although the fish is found in many streams and rivers, the fish population in Maharashtra rapidly declined until none were found in the Indrayani river of the Western Ghats.
It was to revive the western population that Friends of Nature Association (FoNA), an NGO made efforts at their level and ultimately succeeded in bringing the fishes back from the brink of extinction.
Founder of FoNA Mahesh Mahajan said, "The fish are bred in artificial tanks, till they are two-three inches long. They are then put in cages and immersed in the river. When they are acquainted with the pressure and temperature of the polluted waters, they are released. The process is repeated periodically."
The team has placed these cages near Gatha Mandir in Dehu Gaon, about 40 kms from Pune. Shashank Ogale, a senior fisheries scientist and head of corporate social responsibility and environment at Tata Power has given them expert advice on the project. It was funded by the Central Institute of Fisheries Education and sanctioned by the National Fisheries Development Board.
The initial challenge for the team was to procure eggs of the fish as none were available in the Indrayani river. The eggs were brought from Himachal Pradesh and carefully bred in artificial tanks.
The Western Ghats is a virtual treasure trove of many species of plants and animals found in India. There are numerous species that are found in no other place in the world.
According to Dr Nilesh Dahanukar from the Indian Institute of Science Education and Research (IISER), a member of IUCN's study, apart from the Mahseer, there are other fish species too which are threatened.
He said, "There are 290 species of fish in the Western Ghats, out of which 190 are indigenous. We find that nearly 60 per cent of endemic species are threatened. Fish like the Nukta which was native to th Mula-Mutha Rivers are now found only in Satara. There too, their population has decreased."
Judging from the present successful re-population of the Mahseer, it is hoped that similar projects will help save other endemic and threatened fish species of the Western Ghats.
More related stories,
Maharashtra's Biodiversity revealed
Fish in a Tank, None in the River
Western Ghats Aquatic Species plunging towards Extinction
Image via Arkive