People around the world picture Goa as the ultimate beach destination and what adds to the charm is the lush green environs of the state. But locals and conservationists fear that iron ore mining companies in India are not only spoiling the natural beauty of the region, but threatening the lives of many wild animals stricken out of their forest homes.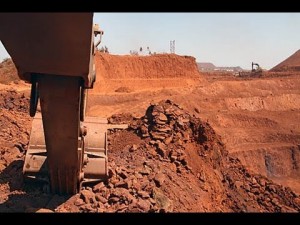 The Bicholim area of Goa has for the past few years become a mining hotspot after it was found to be an iron-ore rich belt. But this particular area is nestled in the foothills of the Western Ghats and more than 70 percent of birds and reptiles found in the World heritage site are found here.
Hence while the land is being mined to supply China iron ore, the digging is turning the vast forests into a barren graveyard for many forest dwellers and this includes rare and endangered reptiles.
Threatened Wildlife
According to Amrut Singh, founder, Animal Rescue Squad, a voluntary conservation group of the area many pythons and King cobras are now found dead around the region.
"We have rescued hungry and unhealthy pythons from the villages located near mining leases in Bicholim taluka. Rare reptiles like king cobra were lying crushed under stones," Amrut said.
He and his team of 100 odd volunteers keep rescuing animals, snakes and birds that enter homes more often now because their forest homes have been destroyed due to mining.
"King cobra, russell viper, saw scaled vipers are often rescued from homes adjacent to the mining leases in Bicholim," he said.
Singh recalls how decades back flying snakes were found in the area but now are rarely seen. Same is the case of many other animals that are not just rare but endemic to India.
"Some snake species are on verge of extinction. Ceylon cat, beddome's cat and ornate cake snakes, found in abundance early, are rarely sighted," he says.

Croc on Street
With the increase in mining activities another unusual phenomenon observed by locals is the increasing sightings of wild animals in human habited locations.
India's Endangered reported a few weeks earlier about a local who found a mouse deer in his bathroom. It was the same conservation group that rescued the wild animal.
Crocodiles were sighted in the busy streets of the locality, many times by people in the middle of the night. The conservation group explains that because the marshlands are getting silted with iron ore and mud, the crocs have no place to go and they helplessly come out on the streets.
In remote Sattari taluka, is Gavane, a village tucked between three wildlife sanctuaries, which has seen several Indian bison, Goa's state animal, and found dead in mining pits. Experts say that bisons falling into the pits and dying has become a common phenomenon.
No Farming Future
It is not just the wild animals whose future seems bleak because of mining. Agricultural activities too have suffered a major jolt in the areas of Goa where mining has flourished.
As per the website Heraldingoa,
"While Chief Minister Manohar Parrikar's ambitious March Budget for 2012-13, held out a major promise to boost agriculture through mechanized farming, talukas of Sanguem, Quepem, Sattari and Bicholim are witnessing its slow death with the onslaught of mining.

Now there appear to be little hope for the growth of agriculture in these four talukas where it was once the mainstay. The talukas constitute 67 per cent of state's geographical area, but sustained devastation has ensured that their green topography has disappeared due to the assault from mining activities."
Green activist Ramesh Gawas further acts that farming activites have dipped because paddy fields are filled with mining silt. Dairy farming too cannot progress as their is no fodder or water available for the cattle.
Holidays in goa will not be the same without the natural splendor. To save wild animals as well as the reason why so many travelers come to this state, the mining activities need to be curtailed. Conservation of wild animals and their wild homes today can prevent a greater catastrophe later.
More Related stories,
Western Ghats become a World Heritage Site
For the Turtles of Goa, Celebrate New Year in Peace
Injured Olive Ridley Turtle Saved and Released into the Ocean
Image via ptwo via cc/flickr and article.wn.com