Look out! There are some brilliant coloured birds about to land on your screen!
Mangrove Pitta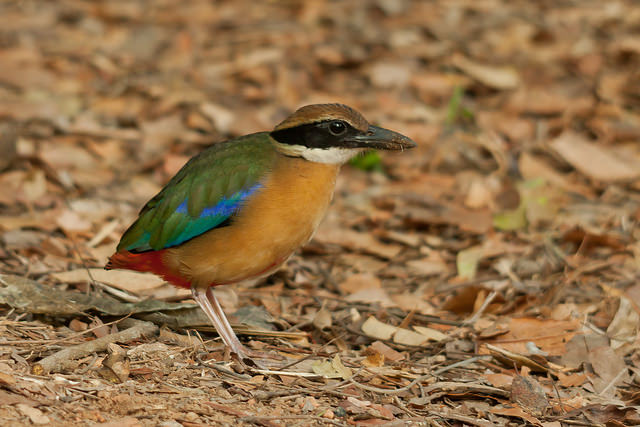 The pitta is a colorful little bird that can be easily spotted from a distance because of its distinguishing orange-yellow breast, green and blue wings and a red tail. The marshland bird is becoming very rare though as its habitat vanishes.
World's First Mangrove Zoo To Be Opened In West Bengal
Red Jungle Fowl
They are the wild ancestors of the domestic poultry and commonly seen in many Indian jungles, especially in the Western Ghats. Brilliant to watch, the roosters have long, golden-orange to deep-red crown and neck feathers, and a dark metallic-green tail with a white tuft at the base.
5 Spectacular Crabs Discovered In Western Ghats
Yellow Weaver
This bird found in marshy grasslands has a rapidly declining population as more and more of its terai habitat is converted to agricultural land. Found in small pockets of north-east India, the brightly coloured bird is becoming very rare.
Alexandrine Parakeet
A magnificently vibrant green, red and pink bird, the Alexandrine parakeet (Psittacula eupatria) is native to south and south-east Asia, but is becoming a common sight in many European cities too, because of exotic pet trade. Although not rare, the colorful birds are constantly being captured from the wild to be sold as pets.
29 Parakeets Rescued From Smugglers
Nilgiri Flycatcher
Found in a very limited range in the Western Ghats of India, this beautiful blue coloured flycatcher is hard to miss. Endemic to India, the bird is totally dependent on the Western Ghats for its survival.
Eco Travel: Silent Valley National Park, Kerala
Temminck's Tragopan
Considered the most beautiful pheasants in the world, the male birds have bright orange-crimson body with pearl-grey dots below and black-bordered white dots above. Perhaps even more striking is the vivid pale-blue skin of the face! The bird is found in the Himalayan regions of east India.
New Himalayan Singing Bird Discovered
Yellow Throated Bulbul
Rocky hills and steep rocks are home to this captivating bird. It has a bright yellow head that seems like it has been just splashed with Holi colours! The bird is losing its home to granite mining.
Iron Ore Mining Stripping Wild Animal Homes In Goa
Ruddy Kingfisher
This distinctive looking kingfisher is found in a wide range across South east Asia, including India. It prefers coastal mangrove areas.
Blyth's Tragopan
It is the largest of all tragopans in the world and as bright as it can be! The face is yellow, head is rusty red, and the body is mostly smokey grey. The upper part of the body is what makes the bird so colorful to look at. It is brownish red, densely spotted with small white dots. A distinctive black band extends from the base of the bill to the crown and another black band extends behind the eye. It is found in North-east India and is a rare bird.
Western Tragopan: Vulnerable State Bird Of Himachal Pradesh
Pink headed Duck