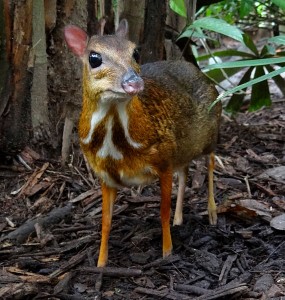 Sandeep Desai of Goa thought the wild intruder in his bathroom was a stray hare. But he was in for a surprise when the creature actually turned out to be an animal locally called a pisoi or what is more commonly known as the mouse deer!
The mouse deer is India's smallest deer, and adult weighs not more than 8 kgs. It can be easily mistaken for a giant mole or a hare, as Sandeep thought. He found the deer inside his bathroom in Gaonkarwada in Mayem of Bicholim taluka of Goa. Sandeep caught the deer and handed over to Amrut Singh of animal rescue squad at Bicholim who later released the animal safely back into the jungle.
Speaking to TOI, Amrutsingh said, "It is protected as scheduled-I species under Wildlife Protection Act. But it is seldom seen since it is being hunted by man for flesh. Antlers are absent in this species."
Desai believes that increasing mining activities in the neighbourhood have robbed the wild animals of their home and that is why such cases of intrusion into human property arise.
"Increasing mining activities have disturbed the natural habitat of the pisoi. We caught it inside the bathroom thinking it was a hare," said Sandeep.
Amrut adds that the patches of deciduous forest that once were seen in this area are gone due to excavation activities.
"Gaonkarwada, a hamlet of Mayem, once had patches of deciduous forests. However, as soon as the iron-ore excavation began, the natural habitats of carnivorous as well as herbivorous wild animals were destroyed and this has resulted in displacing them. Since last 6 years we have rescued many wild animals in this area," said Amrutsingh
At least, it's a happy ending for one lost deer.
More Related Stories,
Rare Mouse Deer Sighted in Maharashtra
After Tigers Now Ban on Hangul Tourism
Rise in Livestock Population once again a Problem for Gir
Image via wikipedia.org by Bjørn Christian Tørrissen