Did you know that Mumbai was once a city of forests where panthers roamed, or that stone age people still inhabit the Andaman coast, fiercely guarding its untamed forest? Did you know that the snow leopards are more commonly called the grey ghost of the himalayas or that the crystal clear waters around Lakshadweep islands are bustling with mystical creatures?
The India that most of us come across everyday is sadly contained within the boundaries of our cities. Often the pot holed urban streets, corner grocery shop and the 60th floor office cubicle make up our world. It is especially the next generation – born and brought up in this urban world that is tragically left unaware of nature and its myriad mysteries. But one author has notably for the past 14 years taken up the arduous task of bringing nature and adventure into our lives through his books – The Vikram Aditya Adventure Series.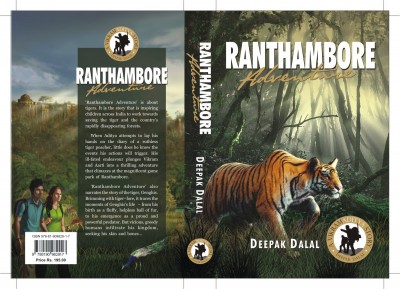 Meet Deepak Dalal, a writer, traveler and a naturalist who has since 1998 given young Indian readers a brilliant portrayal of our nation's biodiversity, all wrapped up in a fast paced adventure story revolving around two teenagers – Vikram and Aditya.
Touted as India's Hardy Boys, the two boys have explored the length and breadth of India – Sometimes chasing poachers in the jungles of Ranthambore, sometimes meeting the elusive Snow Leopard, sometimes coming face to face with the ancient inhabitants of Andaman Islands and sometimes dwelling into history and unearthing the Mumbai where Church Gate was not just a station but truly the entrance to a Church.
 In his eight books so far, Dalal has consistently given readers stories that foster the fondness for wildlife without once missing out the fun and thrill accepted from an adventurous and energetic duo. His two part books – Sahyadri Adventure: Koleshwar's Secret (Sahyadri Adventure)
 were shortlisted as the best book of 2010, children's category for the prestigious Crossword Awards.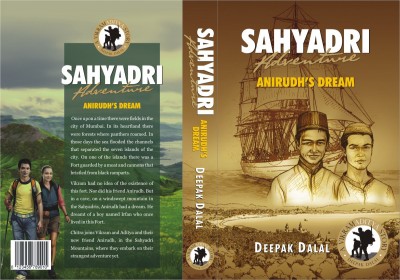 Deepak Dalal is as much an adventurer himself as his central characters. He can often be found trekking the length and breath of the country. As his website informs, the Sahyadri Hills of Pune are a short journey from his home. When not at his desk writing, he is either trekking their slopes or cycling their valleys.
Unlike the halo surrounding celebrated personalities, when we first spoke to this accomplished author, he immediately came across as a humble, down to earth person extremely passionate about nature.  Opening up about his books and personal life, here is our conversation with Deepak Dalal, exclusively for India's Endangered readers,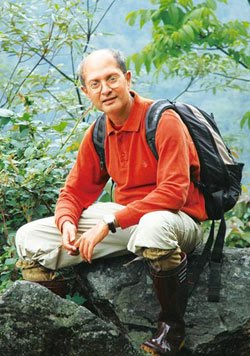 India's Endangered (IE) – Growing up which books were your favourite?
Deepak Dalal – Like all kids of my time I grew up reading Enid Blyton. In particular I loved her adventure books – Island of Adventure, Circus of Adventure, etc. I guess this is where my love for adventure stories began. 'Coral Island' by R.M. Ballantyne was one of my favourite books. It is a story of great adventure in the Pacific Ocean. I also enjoyed Billy Bunter, Biggles, westerns, Sherlock Holmes and many other books. My friends poked fun at me as a bookworm and I still am one to this day.
IE – You studied engineering but became a famous and successful children's book writer. Do you think the present generation has more accessibility and facilities to pursue different careers or are they still being pushed to take up engineering and medicine by parents?
Dalal – Today the range of careers available for kids has gone up exponentially from those available for us, which (as you put it) revolved around becoming doctors and engineers. Youngsters today are opting for wildlife, conservation, media, music, advertising, and tons of other great stuff. If I were a youngster today there is no way I would have studied engineering.
IE – You first book Ranthambore Adventures highlighted the plight of tigers. Since then the, population of tigers has only gone down. What according to you are the actions needed urgently to stop this species from vanishing completely? Additionally, how can children get more involved in the conservation issues?
Dalal – Children cannot be asked to wage war on the frontline to save the tiger. That's not their place and it should never be. Yet, I believe children can play a crucial role in saving the tiger. Their role should be in creating awareness amongst their friends, colleagues and even their parents about the problem. They must try to foster a love for wildlife and wilderness areas. This is of great importance – I cannot even begin to stress how vital this is.
In life we preserve only those things that we love and understand. This is a fact, an inescapable one. It follows that if the young of India do not understand the tiger problem, and don't enjoy the incomparable beauty of our forests, they will not lift a finger to save them. Spreading of awareness and love is the role that children must take on. They should speak to their friends, their teachers, their parents, and convince them to love our forests and wild animals. This is grassroots work and if it is done properly it will go a long way in saving our natural heritage.
This is exactly what my book 'Ranthambore Adventure' endeavours to do. The book was written with the specific goal of creating a bond between children and wildlife. The young of India should take this forward. If they spread love and awareness of wildlife amongst their peers and acquaintances, half the future battle to save our forests and wildlife will be won.
IE – Your books take the reader to different regions, different landscapes of India. They are as much a travelogue as an adventure story. When you write do the places motivate what you write about or is it the other way around?
Dalal – There is great natural beauty in the wild and exotic destinations of India. It is the splendour of these places that motivates my writing. I hope that my writing will kindle a desire for people – particularly children – to visit and explore such areas for themselves.
IE – In the age of computers, television and internet, do you think children are spending as much time outdoors as is required?
Dalal – The love for outdoors is dying a swift death. This is an unfortunate truth. There are studies that show that spending time outdoors and in simple unstructured play in natural surroundings is extremely beneficial from a psychological, emotional and even intelligence point of view. We are headed for big problems in the future. Like global warming, this is an issue that has to be tackled on a war footing. I only hope that we will have better success than we are having with global warming.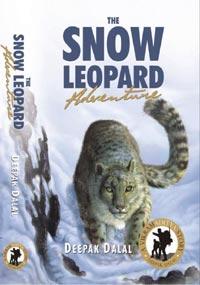 IE – We know you are an adventurer yourself. Most of the adventures Vikram and Aditya embark in the books are first experienced by you. So tell us, after Ranthambore, Ladakh, Andaman, Sahyadri and Lakshwadeep which part of India do we expect to explore next with Vikram and Aditya?
Dalal – The list of future locations is endless: There's Arunachal Pradesh, a largely unexplored Indian destination; the southern forests (I want to write a story on elephants in the Muduamallai, Wynad, Bandipur area), wild Goa, the Brahmaputra valley, India's great coastline…I could go on. But since my research and writing take long (stretching to a year and beyond). I will be happy if I manage five more VikramAditya stories in the coming years.
IE – Which is one Indian animal that you would love to write about in these future stories?
Dalal – India's elephants – no doubt about it. Elephants are slowly but surely losing out as we encroach into their forests and sever their migration paths. Also, elephants are such wonderful animals. They openly display love and suffer a deep sense of loss when they lose their loved ones. They share several emotions with us. I want to tell the story of India's wild elephants and the human-driven tragedy that is overtaking them.
IE – JK Rowling recently made the switch from Harry Potter series to writing a novel just for adult readers. Should we expect a similar Deepak Dalal novel for adult readers too?
Dalal – Although several adults read my books, I don't think I will write books targeted at them. The majority of children's writers stick with their audience. I am one of those.
IE – Any message you would love to give India's Endangered readers.
Dalal – If you deeply love animals and forests, then spread this love. Do it now. Make this your mission. You will change the world.
More about The Vikram Aditya Adventure Series
Written for young readers, at their most impressionable age, the books have a fantastic, engrossing style that can engage children as well as make them appreciate the importance of nature and wildlife. While Vikram is an intelligent, methodical, perceptive young boy, his best friend and partner in crime Aditya is action oriented, courageous, and a brave heart. Both share a passion for nature and often can sense wrong doings in the most blissful landscapes of India saving wild animals from poachers and other men with illicit motives.
If you want to order a copy of these books or just want to know more go to Deepak Dalal's website. You can also join him through his facebook page.
Reader's who are already a Virkam Aditya Adventure series fan are welcome to send their book reviews to us. Mail us at contact@indiasendangered.com and we promise to publish your reviews with your name right here.
More Related Stories,
  Villagers Rescue Tigeress Caught in a fence
Interview: Tiasa Adhya, Fishing for the fishing Cats
Jeff Corwin Launches First of its kind E-book Series on Wildlife