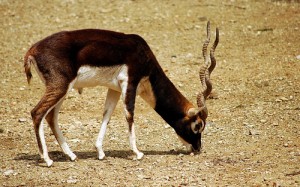 It is always the simple acts of the common man that can make uncommon differences. As yet another example of a community conservation effort, members of the Meena community belonging to a small village in Tonk district of Rajasthan are doing everything they can to save the blackbuck and deer population of the area.
Ranipura is a small sleepy village about 35 kilometres away from Tonk. It was in 1960 that the first blackbuck population was seen in the area. They attracted the poachers and hunters until the deer population began decreasing. It was at this time that the locals stepping in to help.
In the 90s the people of the community began guarding the deers. They build temporary shelters for the animals near their fields and also provided drinking water. The community effort became a passion for everyone with the earlier generation passing the baton to their sons and daughters.
The earlier generation initiated the movement but the youngsters too convincingly and voluntarily joint in. They formed the `Dadu Environmental Society' about five years for the protection of deer and black bucks in the area and the volunteers also regularly hold awareness campaign in all the surrounding villages," said Mahaveer Meena, a resident of Ranipura and member of the Society.
In 2008 the society member caught two poachers trying to kill the blackbucks. After that no such incident has occurred here.
The community also does not stop the blackbucks and deers from entering their farms, as done in other agricultural lands.
"These animals are not stopped from entering the fields. However, thankfully, no farmer in the area has faced a major loss because of the herds," said Mahaveer.
Appreciating the effort taken by the villagers, the authorities too have chipped in by providing separate water tankers for the animals in summer.
"The villagers, particularly the younger generation, have worked hard to create a friendly environment for the animals and done a commendable job in protecting the blue bulls and deer in the area," said state co-ordinator of the People for Animals Babu Lal Jaju.
It is people of Ranipura who are the real heroes.
More Related stories,
Canal Project Cuts Crucial Corridor in Ranthambore
Bishnois:Environment crusaders by birth
Angry Mother Bear Scares off Two Tigers in ranthambore