"It's a tiger!" someone shouted and soon the whole village of Nidugumba was wide awake alerted by the predator's presence.
Living just 1.2 km away from Karnataka's famous Nagarhole National Park, it is not an uncommon sight for these villagers to see a tiger. But this time the jungle king or more correctly the queen had walked right into their village and had got her left paw stuck in a fence around one of the coffee estates. Instead of fearing, running away or worse hurling stones and killing the tiger, the villagers rescued and saved it.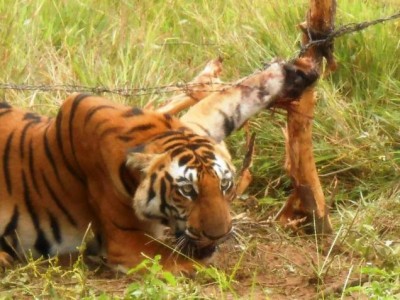 Because of the quick action and empathy showed by the villagers of Nidugumba, the young tigeress's life was saved last Tuesday when her left paw was snagged in a barbed wire fence of a coffee estate. The tigeress must have wandered from the nearby Nagarhole reserve and in the darkness of the night got tangled in the fence.
Early morning some villagers noticed her presence and promptly informed the forest staff. More importantly the coffee planter, Sullimada Muthanna, as well as other villagers prevented any mobbing and harassing of the struggling tiger.
A team of forest rangers, staff and veterinarians, led by field director Basavaraj Hosmath and deputy director Kumar Pushkar immediately came to the rescue of the wounded animal. The tigress was tranquilised, untangled from the fence and transported to the Mysore Zoo. The whole time, villagers kept a quite distance from the tigress and the professionals, not interrupting with the rescue operation.
Nagarahole has a high tiger density of around 10-12 animals per 100 sq km. According to Wildlife Conservation Society (WCS) animals from the national park stray out due to competition with other members of their species.
"Such incidents of tigers straying into villages are bound to happen around wildlife parks such as Nagarahole, Bandhavgarh or Corbett, which have had success in tiger conservation. In a way, these are signs of success. But people need to be educated on how to deal with these situations. Nidugumba village has shown the way," said K Ullas Karanth, director of science (Asia), WCS.
B.P. Ravi, executive director, Mysore zoo said that the tigeress was out of danger and responding well to the treatment. Her left paw is still swollen and as she recovers fully, decision will be taken on her safe return to her forest home.
Such incidence of community coming as a whole to save the tiger shows, peaceful co-existence of man and the beast is possible if we only try.
More Related Stories,
Kawal becomes India's 42nd Reserve
4000 acres of Tadoba Tiger Reserve reduced to Ashes
Image via The Hindu