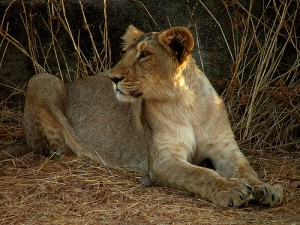 Animals from the wild are frequently captured and placed in zoos but Chennai's Vandalur zoo is planning to do the reverse as five of its resident species will be relocated to jungles to offer the animals some peace from the maddening crowd of zoo visitors.
The Arignar Anna Zoological Park at Vandalur is one of India's best planned zoos with ample space for the animals and a separate reserved forest section. Now the zoo officials have begun shifting five of its endangered residents to the reserve forest area to provide them with some peace from the hoard of visitors and potentially increase the chances of breeding.
The animals that have been selected for the shift are, white tiger, lions, lion-tailed macaques, Nilgiri langur and ostriches. The older members of the same species will continue to inhabit the zoo area while the young breeding pairs will be relocated into the reserve forest area, away from the public eye.
"This is the first time such an effort is being made. We will move other species based on the knowledge and experience we gain from this effort," said zoo director and chief conservator of forests K S S V P Reddy.
He said that apart from the visitors it was the noise and sound coming from the nearby stone quarries that was disturbing the animals.
The zoo sees 4000 visitors each day and the numbers usually double during the weekends. Reddy said that the zoo primates are constantly irritated seeing crowds and show their displeasure by making sounds.
"The noise obstructs mating and creates psychological fear among animals and birds, especially when they give birth to young ones. Often, field staff have found a mother trying to hide new-borns in bushes or holes within the enclosure to protect them from enemies, a fear created by noise," said a zoo veterinarian.
The 600-hectare zoo comes under the Vandalur reserve forest, which covers an area of 1,250 hectares. Most of the forest areas under the zoo limits have a variety of flora and fauna. The zoo got permission from the Central Zoo Authority, the nodal agency for country's 198 zoos, a few months ago for the project
Many zoos in India, even in metros like Mumbai are in an apathetic condition with animals locked in cages where they can barely move. It is therefore a good thing to find Vandalur Zoo taking the efforts to make the animal's more comfortable in their confined environs.
(Visited 365 times, 1 visits today)