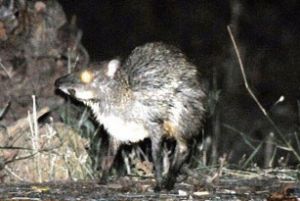 Last February wildlife enthusiasts were greeted by one great news when the rare mouse deer was found grazing in the Nagzira wildlife sanctuary in Nagpur. Although the species has a wide range in India from the Western Ghats till Orissa, but they are difficult to spot because of their nocturnal nature.
The mouse deer is also known as the Indian Chevrotain (Tragulus meminna) and is a tiny little creature with shy habits. The animal easily escapes observation due to its protective colouring and ability to hid behind huge rocks or in standing tree crevices.
It was sighted in the Nagzira sanctuary by naturalist Sunil Dhote and some other tourists near Wakda-Berda water hole on February 29 around 6.30 pm.
A visibly delighted Dhote said, "I've been visiting Nagzira for the past 21 years but this is for the first time that I have spotted a mouse deer."
Conservationist Prafulla Bhamburkar said that he remembered hearing of hunting of a mouse deer way back in 1971.
"Mouse deer is a very timid and nocturnal animal difficult to spot in the wild. It lives in cavities of big trees," he said."I remember hunting of a mouse deer near Bodhalzira by a local poacher in 1971. The last mouse deer I sighted was in Nagzira in 1976 behind the lake," he remembered.
M Srinivas Reddy, conservator of forests (CF) for Gondia wildlife division however said that the list of mammals found in the area does mention mouse deers although they are difficult to sight.
"It means there is already presence of mouse deer in Nagzira. The sanctuary seems to be a good habitat for the rare herbivore," Reddy clarified.
Wildlife expert Kishor Rithe believes that the reason for such rare sightings could also be because of the lack of trees with big girth in the forest as compared to the past.
"Most of the sanctuaries here were notified after 1985, till the time when logging was on. This led to habitat destruction. In unlogged areas like Gugamal in Melghat, mouse deer still exist but sightings are rare. It was in 2004 that I sighted last. Prior to that it was in 1992," Rithe said.
How to Recognise a Mouse Deer
Adult mouse deer has a height of about 10-12 inches or 20-30 cms.
The brown coat is speckled with white markings.
The legs are slender and the feet are four-toed, but the outer toes are small.
Mating period is in the rainy season and in all other seasons males are solitary creatures.
Give birth to only one offspring at a time.
Hides in tree crevices or behind large rocks.
Usually can be sighted during daybreak or dusk when the animal looks for food.
(Visited 1,138 times, 1 visits today)