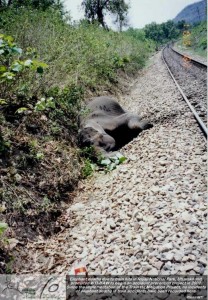 Come 2016 and elephants may safely cross railway tracks without the risk of being hit by an oncoming train. A device developed by Indian Institute of Technology, Delhi, will help detect the presence of elephants and other animals on railway tracks thus sending a warning signal to the train.
A wireless sensor device has been developed by IIT-Delhi, which will detect the presence of elephants and other animals on railway tracks and then activate a signal to a station master for warning trains to slow down or stop.
The project is a collaborative effort of the Union ministries of railway and environment & forests that had been approached by a global organization Animal Equality to save animals on tracks.
"We suggested the installation of radar sensors in trains for detecting animals in front of trains and on tracks. We also sought an auto-brake function that can be utilised to avoid collisions," Animal Equality's Indian representative Amruta Ubale said.
"Sensors are used by international car companies. It is also used in some trains and ships. The technology has proved useful in avoiding collisions," she said and added, "We hope to see the project in place by 2016."
However, Parimal Bhattacharjee, executive trustee, WTI and former professor and head, department of zoology, Gauhati University says that the success of the device can only be ascertained after it is tested in hilly areas and forest covers.
"It will be difficult to jump to any conclusion without testing in the hilly areas and other parts of the northeast," he said.
Wildlife Trust of India has already been working in the Northeast states in this regard, by deploying volunteers along the tracks of Assam, who regularly inform about elephant activity and let oncoming trains know if an elephant family is crossing the track.
An August 2010 report of the Elephant Task Force suggested that 150 elephants were killed in train collisions since 1987 in India. Assam tops the list with 36% of the casualties. West Bengal is second with 26% and Uttarakand third with 14%. The report said most of these collisions took place between 6pm and 6am.
Alarmed by such deaths of elephants in Assam, the WTI, supported by the International Fund for Animal Welfare, had carried out a survey-cum-study and identified about 23 accident-prone sections in eight forest divisions in the state.
More Related Stories,
Warning:Wild Elephants Spotted Near your Home
Rajan, the Sea Faring Elephant of Andaman
Elephant saved from Being Hit by a Train in Assam
Image Courtesy Wildlife Trust of India