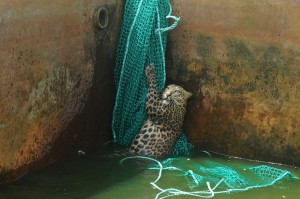 Thanks to the timely efforts of locals, a leopard that had fallen into a reservoir in West Bengal's Siliguri District  was rescued using a humble net last Wednesday.
Dozens of workers at the Hansqua Tea Estate near Siliguri in the eastern state of West Bengal had reported to work early morning when they found a wild leopard nearly drowing in the reservoir of the tea garden. The leopard was struggling hard to come out of the neck-deep water.
"When we came to work, we were told that there was a leopard here. Lots of people gathered to see it," said tea garden worker Mantu Baraik. "The police came first and the forest officials followed. They put up a net and helped the leopard escape."
A simple fishing net was laid on the walls of the reservoir and the locals gathered around to see if the leopard could use it to re-gain its freedom. The wild cat initially faltered getting up using the net, but finally managed to jump out of the reservoir and run back to wilderness.
The locals erupted with joy on seeing the leopard free again.
Watch the drama unfold in this video,
The Forest Ranger said that the animal was a fully grown male that had strayed from the forests adjacent to the tea garden.
Incidents of wild animals straying into human settlements in India are on the rise due to the depleting forest and shortage of prey in the wild, which forces them out of their natural habitat and often results in attacks on humans. As a result, there have been reports of villagers brutally killing the animals.
More related Stories,
Radio collaring of Leopard begins at Dachigam National Park
Leopards: Victims of the Man-Animal Conflict
Rare Cat Species Spotted at Corbett National Park