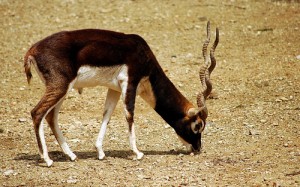 Katarnia ghat Wildlife sanctuary in Uttar Pradesh is near the Indo-Nepal border and still a place where wild species can spring about freely without human interference. Thanks to a number of planned water storage facilities and early showers this season, it is the first time in many years that forest department found a rise in number of rare blackbucks in this wildlife reserve.
The counting of black bucks was carried out last month between May 16 and May 23. What astonished the officials was that the number of both male and female of the species has risen considerably from the last count carried two years ago.
Under three blocks of the range Bichhiya, Girjapuri and Gairwa the blackbuck population was found to be 73. In the same areas two years back the number was a threatening 7. The officials believe the rise in number is due to the early rains this year that led to abundance of food as well as water for these deers.
But the DFO of the area is quick to point the problems he is facing in his conservation efforts,
Divisional forest officer (DFO) wildlife RK Singh said, "We are facing problems due to the scarcity of budget and staff still the operation for wildlife conservation will continue."
For the past 10 years the Katarnia range saw a continuous downfall in the number of wild animals of the area. This was mainly due to very little rainfall and the unstoppable poaching attempts. The forest department for the last two years has been tackling both problems by first constructing artificial water reservoirs in the range and strengthening patrolling.
Looks like the efforts have paid off and the range is back to being a safe home for blackbucks as well as other wild animals.
Related Stories:
Poachers on the Prowl for Blackbuck Meat
Increased Population of Endangered Hangul in Kashmir
Soldier saves Sambar Deer Fawn from Stray Dogs