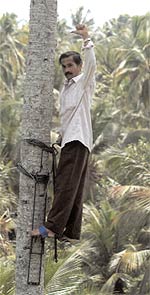 When a small farmer from a village in Kerala devised a new mechanism to make the arduous task of climbing coconut trees easier, he might have never imagined that his innovation would one day help save the highly endangered vultures of India. But that is exactly how some conservationists in the western state of Gujarat are ensuring that vulture population is safe on the tree top.
Apachan, a farmer from Kerala used to climb trees to pluck coconuts. The monkey-like act looks easy to do but can be done only by highly skilled and physically strong individuals. Without a harness the risk of falling and getting severely injured is always pertinent.  Apachan decided to make the task easier by twisting some wires and making a device that could be twisted around the circumference of the tree and had steps to climb the tree. The innovation became such a big hit, that even women could easily climb coconut trees in matter of minutes.
Apachan is no more, but his invention is now helping vultures in Gujarat.
The tall coconut trees in coastal areas of Mahuva and Rajula taluka in Gujarat are a favored nesting spot of the vultures. Last October SRISTI and GIAN donated a tree climber to Nageshri village to help the locals climb the tree and see that the nests and the eggs were safe.
Ruchi Dave, a high school teacher and a resident of Mahuva first used the device to check on the nests. Soon curious onlookers wanted to use the device themselves and local villagers found the hard task of climbing the tree could be now done so easily.
Local groups now easily inform conservationists whenever they see something amiss in the nests. The project has been such a success that four more of the climbers have been donated. Local companies are also thinking of making their own device based on the same principles.
National Innovation Foundation (NIF) plans to compensate late Appachan's family for contributing this innovation for conservation purposes under Technology Acquisition Fund (TAF) since the design of the climber is protected by a patent.
Endangered vultures need all the help they can get to survive in the subcontinent. One grassroot solution, the brainchild of a person in a far off coastal town, is providing that very help in Gujarat.
Related Stories:
Vulture Deaths Slowing Down post Killer Drug Ban in India
Four New Vulture Restaurants open in India
Guajrat Plans to Create First Gene Bank for Wildlife in India
Article reference: DNA