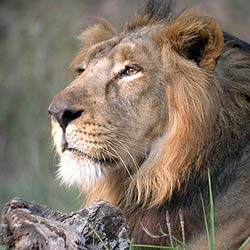 The Union ministry of environment and forest announced last week that 17 species of animals and birds that are listed as endangered are being considered for recovery from the 'Endangered species list' of the Red Book of the International Union for Conservation of Nature (IUCN). The list includes Asiatic Lions whose population is visibly increasing and other species like the Indian bustards and snow leopards that are known to be struggling to survive.
India's Minister for environment and forest Jayanthi Natarajan announced on Monday that the ministry had identified 17 species for recovery from the endangered species list. These are,
Asiatic Lion
Snow Leopard
Bustard (Including Floricans)
Dugong
Malabar Civet
Dolphin
Hangul
Nilgiri Tahr
Marine Turtles
Edible nest Swfitlet
Asian wild buffalo,
nicobar megapode,
 manipur brow-antlered deer,
Vultures
Indian rhinoceros,
Swamp deer
Jerdon's courser
Among these species barring a few like the Asiatic lions, the hangul and the Indian rhinoceros, most animals and birds are facing a grave threat of extinction as their numbers have not shown any rise in past few years.
A recent study concluded by GEER Foundation about the status of dugong in India has brought to light a population of about 131 in India. The last count of the rare bird Great Indian bustard was found to be only 45. Similarly vultures and Jerdon's courser are also facing extinction if immediate action is not taken to revive the species.
Some newspapers in India have wrongly interpreted that the Asiatic lions is no more endangered, after the recovery plan announcement was made. The recovery plan merely means that for the above mentioned species, the government will take more specific steps to ensure their protection and conservation. This will ensure that in near future these priority animals can be de-listed from the red list of endangered species. It does not mean that the species will be removed from the endangered species list now.
It is a welcome move by the ministry to include the 17 species most of which have a unique habitat and are not found anywhere else in the world. Habitat protection, lesser habitat fragmentation, action against poachers and spreading more awareness about the species will definitely be the problems to tackle to help these species.
Related Stories:
Census shows Increased Population of Hangul in Kashmir
Efforts made to Save Jerdon's Courser