The picturesque Lakshadweep is in news again. And this time it is for coral spawning seen around the island and being recorded for the first time. Also known as sex-on-the-reef, this indeed is great news and an assurance that the coral and marine systems are co-existing happily and healthily together.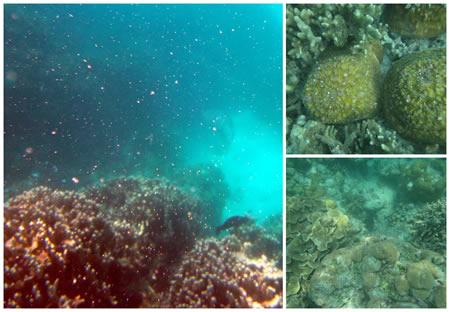 Coral Spawning is a process where corals multiply by sexual reproduction which is generally seen after full moon nights. This shows up as large collection of mass expulsion of sperm clouds and colourful eggs into the waters by corals. The sexual reproduction among gametes takes place once a year. During this phenomenon the gametes rise to the surface of the ocean forming a colourful slick on the surface. This is an indication of the coral reefs being in a goof and healthy condition.
The Great Barrier Reef in Australia is well known for its coral spawning which happens after the full moon in November and December. This event attracts a lot of tourists every year. In Maldives too spawning has been observed between end of January and beginning of March. But in India, it is not commonly known and this is the first time that scientists have had the opportunity to be present when the coral spawns created a riot of colors in the ocean.
What happens during spawning? It is during this phase when the eggs are fertilized and the larvae are formed. These larvae then float in the ocean until they find suitable substrates for attachment. Once these larvae attach themselves to the substrates they settle down to form their colonies and thus thrive. Thus it is a mechanism to spread the coral colonies far and wide.
Accidental Discovery
The activity in the ocean was mistaken by the locals for an oil spill. However, the spawning activity was confirmed by the Wildlife Trust of India's (WTI) marine biologist Subburaman S.
Subburaman said that he noticed an interesting effect in the water while travelling by boat. It was out of curiosity that he collected the colourful spawn for examination. He along with Dr Jasmine and R Srinath of Central Marine Fisheries and Research Institute (CMFRI) confirmed spawning.
Spawning have been happening every year however, it has been scientifically observed and recorded for the first time in India's western coast. Lakshadweep's forest department official Abdul Raheem also confirmed that spawning was noticed four days ago. He also said that though it happens every year it was scientifically recorded for the first time.
Subburaman said post confirmation survey showed that the larvae were seen forming slick layers around Agatti Island, Bangaram, Kavarrati and Thinakara islands.
Saving Corals
In the Arabian Sea, roughly 200 kilometers off the west coast of southern India, are the Lakshadweep Islands. The island chain consists of 27 islands along with coral atolls and sand banks. Lakshadweep's coral atolls glow iridescent blue-green in their natural-color setting. Lately, though conservationists have feared the future of the corals, because of various causes including global warming.
BC Choudhury of WTI says that the occurrence comes at a time when a lot of pessimism was voiced about the state of our corals – with talk of them getting bleached, their habitats being destroyed, global warming, sea levels rising and so on. He also said that it is indeed a magnificent sight, and the team of scientists at Lakshadweep was really fortunate to witness an event like this.
He also added that it should give others working with corals a momentum to study and look out for their seasons of spawning, and at the same time encourage people to monitor these beautiful organisms on a larger scale.
More Related Stories,
Are Marine Species Inching Towards Mass Extinction?
Interview: Deepak Dalal Penning Stories of Nature and Adventure
Interesting Animal Facts from A to Z
Reference  and image Wildlife Trust of India