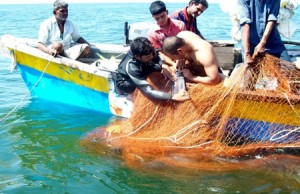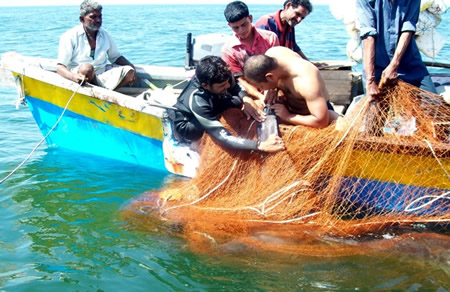 Rescued from fishing net off the coast of Gujarat, a whale shark became extremely special for conservationist when it became the first of its species to be satellite tagged in India. The effort will help tremendously in understanding the migration route, breeding and behavior pattern of the whale-sharks.
The move was made by the members of the Whale-shark conservation project that has been actively involved in the preservation of the species as well as acquiring more knowledge about this marine animal.
Only last month it was revealed that the whale-sharks found in the Indian coasts were probably different from their Australian cousins. Earlier it was always thought that the Indian whale-sharks were those that migrated from Australian coast.
The whale shark conservation project had previously initiated photo-identification, genetic analysis and visual tagging of whale sharks in India. The satellite tag was deployed by a team of researchers under the Whale Shark Conservation Project, a joint venture of the Gujarat Forest Department and Wildlife Trust of India (WTI), and the Tata Chemicals Limited (TCL).
"Few years ago, while discussing with WTI & other partners on how the scientific study on whale sharks should go forward, satellite tagging was identified as an important tool," said Alka Talwar, Head – Communities Development, TCL. "To now see the first tag in place and receive data from the tag is to know that all that we had planned and dreamt is now being realised. For us at Tata Chemicals, this is an achievement of another milestone. We hope that the data from this tag as well as many others that will subsequently be deployed will provide the world with new scientific data and information on this beautiful "Vhali" and help us ensure the long term survival of this species."
Just 68 hours after the tag was attached to the whale-shark, it showed the scientist that the whale had reached the coasts of Maharashtra. The tag will last for six months and provide valuable information to the researchers.
Over the coming months more such tagging is planned for other members of the species.
According to the WTI,whale sharks were killed brutally till a few years back across the shored of Gujarat for their liver oil. This oil was used by fisherman to keep their boats water-proof. After the conservation project was started in 2008, aggressive campaign began to stop the torturous killing and educate the fisherman.
Today, fishermen willingly spare the whale sharks and if caught accidently in their fishing nets, they rescue the animal.
The fish was listed under Schedule I of the Indian Wildlife (Protection) Act, 1972 in 2001. It has the highest level of protection in the country.
It is efforts like these that can ensure that marine animals continue to thrive in the world oceans even in the future.
-Atula Gupta