The latest survey of tigers in the largest mangrove forests of the world, puts the number to 85 – this is 9 more tigers than the survey conducted last year.
The assessment exercise carried out by the Ministry of Environment and Forest in 2015 had put the number of tigers to be 76. This year however the state forest department relied on camera traps to find the number of tigers with help from WWF India. This resulted in the count of 85 tigers though the department officials believe the count can be higher as camera traps might not have given footages of all the royal bengal tigers spread out in the mangrove forests. The estimate is that sunderbans had between 83 to 128 tigers in the Indian side of the forests.
Read More: Oil Spill Creates Major Environment Crisis In Sunderbans
Sunderbans is spread across two countries, India and Bangladesh. This is the first time that the Indian side of Sunderbans was surveyed in its entirety for the camera trap exercise. Along with tigers, the cameras also noted the presence of otters and other wildlife of the region, proof enough that the ecosystem is thriving well, despite huge man-made pressures.
Unique Captures
The Chief wildlife Warden of the Sunderbans, Pradeep Vyas, was especially delighted with the kind of behavourial traits that were revealed from the camera trap images of the tigers roaming in the area.
Read More: Solar Lights To Keep Tigers At Bay In Sunderbans
He said that while most of the images were candid, one that stuck out was the photo of an adult tiger carrying a rhesus macaque kill in its mouth.
"I don't think anybody has ever captured the image of a swamp tiger carrying a kill in its mouth. I myself had clicked a tiger stalking a deer. We have seen carcasses of deer or rhesus macaque killed by tigers. But a Sunderbans tiger with a kill is really special," Vyas said.
In another image, one tiger is seen trying to take the camera trap out of the tree.
Working With Camera Traps
The use of camera traps over the past few years has changed the way wildlife is monitored and conserved across the world. Here is a quick look at how the camera traps are used in the field to check on wild tigers. All images and information are courtesy Times Of India,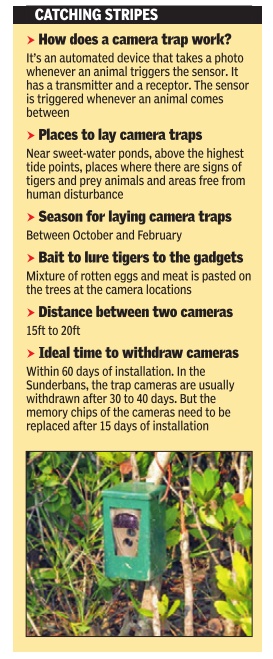 Read More: Camera Traps Capture 6 More Tigers In Sunderbans
Images courtesy
camera trap 1, camera trap 2, featured image