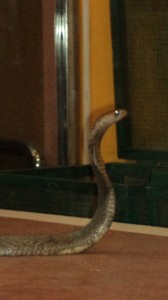 The name Vava Suresh is not unfamiliar in Thiruvananathapuram, Kerala. He is more popularly known as the snake man, because he has dedicated his life to saving these hooded creatures. Last week, the man saved the life of a snake yet another time when a deadly King Cobra was found half-dead at a construction site. A bulldozer had trampled the snake, injuring its abdomen and the chances of recovery were low.
Vava Suresh immediately reached the site at the city's outskirts, rescued the 5.5 feet deadly cobra that was battling for life, and brought it to the Society for Prevention against Cruelty to Animal Hospital. Here senior surgeon Rajeshwari T. administered anesthesia and operated on the snake.
She said, ""The surgery wasn't really complicated, but operations such as these rarely happen."
It was a delicate procedure, also because the snake was not totally unconscious even after administration of the anesthesia. The surgery lasted 2 and a half hours.
Thankfully, the snake is now on the road to recovery and has been handed back to its guardian angel – Vava Suresh. He will now keep the snake at his home until it recovers completely. Then Suresh will release it back into the jungle.
Ironically, only last month Suresh was in critical condition in ICU after he was bitten by a King Cobra. Doctors had at one point even said that he might lose his fingers permanantely. But the man recovered and continues to be the messiah of snakes. Till date he has rescued more than 5000 snakes.
– Atula Gupta