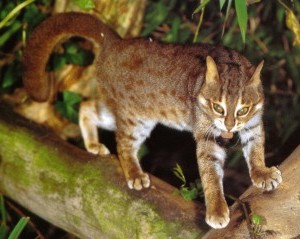 Much to their delight, two wildlife volunteers recently spotted a pair of Rusty Spotted Cats in Sariska Tiger Reserve in Rajasthan. Said to be highly endangered, the cat species are the smallest known cats in the world.
Nishant Sisodia, a wildlife volunteer in Alwar and another volunteer, Anurag, spotted the cat at the reserve while they were out in the jungle. The two immediately took photographs and videos of the rare cats.
The Rusty Spotted Cat (Felis Rubiginosa) is a highly endangered animal. It has been listed as a schedule one animal under the Indian Wildlife Protection act.
In August last year, the same cat was spotted in Corbett tiger reserve by a team from Wildlife Institute of India.
Speaking about the rare find,  R.S. Shekhawat, the field  director of Sariska said, "It is good news for all wildlife lovers,"
Rusty Spotted cat is the world's smallest cat and its length is 35 to 48 cm, while its tail is measured 15 to 30 cm.
The particular cat species is only found in India and Sri Lanka.
More Related Stories,
Tiger Poaching goes Down in 2011
Endangered Species make Rare appearance in Rajasthan
Tigers Need more Space to Survive