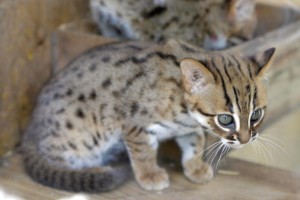 There was a new member of the cat family spotted at Corbett National Park recently thanks to camera trapping. The cat is slightly smaller than the domestic cat with a grey coat and is an endangered cat species called the rusty spotted cat.
This is the first time that the presence of the Rusty Spotted Cat (Felis Rubiginosa) has been noticed at the Jim Corbett National Park which is known to be a good reserve with a handsome population of wild cats including tigers, jungle cats and leopards. As per the last census there were 214 tigers found in the reserve. But until now no Rusty spotted Cat had been found to be present in the protected area.
The animal is highly endangered and has been accorded the highest statutory protection under schedule I of the Wildlife (Protection) Act, 1972, besides appendix I of the Convention on International Trade in Endangered Species (CITES). Its fur is in great demand and thus the animal is constantly hunted down by poachers. The particular cat species is endemic to India and Sri Lanka.
In India the Rusty Spotted Cat is found mainly in the Western Ghats, some parts of Jammu and central India.
Greeting the team of the Wildlife Institute of India for photographing rusty spotted cat inside the Corbett, Honorary Wildlife Warden of the park Brijendra Singh said the Corbett was the one of most rich wildlife areas of the country and the rusty spotted cat further substantiated this fact.
The cat was spotted twice through the camera trappings, once on 28 July and again on 3rd August.
Related Stories:
Tigers Need more Space to Survive
India's Old age Home for Tigers to come up in West Bengal
WWF Discovers Rare Mammal in Arunachal Pradesh
Article reference: Tribune India
Image via pib.nic.in