Kanha tiger reserve is now the first in India to have an official mascot – 'Bhoorsingh the barasingha'. The barasingha or swamp deer is the state animal of Madhya Pradesh and is found only in the Kanha tiger reserve, across Mandla and Balaghat districts. The swamp deer has been chosen as the mascot in order to present it as the spirit of the reserve and spread awareness to save it from probable extinction.
With the introduction of the mascot, the field director of Kanha reserve, Sanjay Shukla hopes that a lot of young visitors will be able to connect better byy giving Kanha a unique identity.
"We wanted to create a unique identity for Kanha, which not only makes it look distinct but also helps spread awareness and allows the younger generation to connect with all wildlife," he said.
The idea for the mascot was conceived during a meeting between Mr. Shukla and award-winning cartoonist from Nagpur, Rohan Chakravarty, who does cartoons and illustrations on wildlife.
Read More: Best Places To Find Tigers In India
"Chakravarty has a knack of mixing humour with wildlife to create cartoons and illustrations that become popular. He also runs a popular website — www.greenhumour.com — which showcases over 350 cartoons, comics and illustrations on wild animals, wildlife and nature conservation, environment, sustainability and all things green. So, I asked him and he came up with four designs for the official mascot".
Why The Barasingha As a Mascot
The cartoonist had visited Kanha for another project in February. The creative ideas of the field director took form in the sketches and illustrations of the cartoonist to create awareness about Kanha through an illustrated map. Finally the Barasingha, an endemic variety of deer was chosen as the park's mascot. 'Bhoor' means tawny/golden and 'Singh' means antlers, he said.
Read More: Tiger Rising, Celebrate With Caution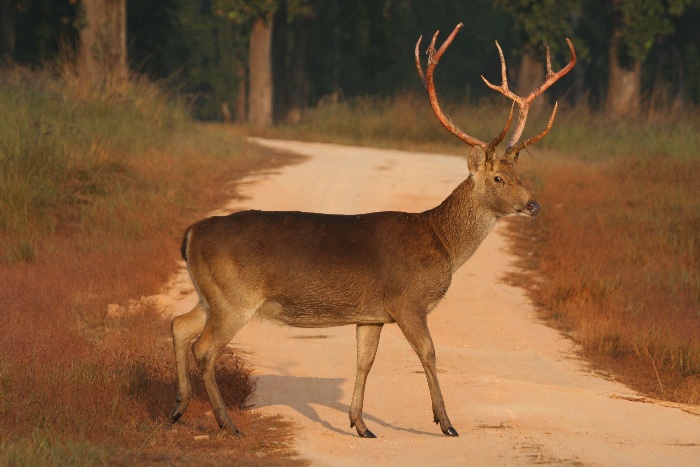 Chakravarty said, 'Instead of the tiger, which ought to have been the usual choice, we decided it should be Barasingha, the uniqueness of Kanha. Finally, I designed four variations of the mascot, one of which was chosen by the MP forest department."
The cartoonist said that Bhoorsingh would soon feature in more artwork, posters and merchandise for the park management at Kanha.
Truly a creative and novel way of drawing people and spreading awareness on wildlife!
Read More: Book Review, Indian Wildlife Through Poems