It is a fitting beginning to a new year. Scientists have announced that the global tiger population is slowly and steadily rising thanks to strong government initiatives in particularly three countries – India, Russia and Thailand.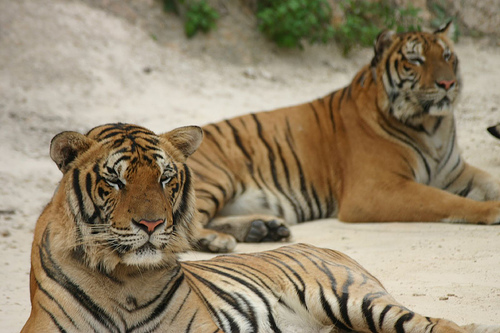 Joe Walston, executive director for Asia Programs at the Wildlife Conservation Society (WCS) said that repeated measures to protect the tigers in these countries and because of the significant effort of the government, the tigers are slowly gaining grounds.
Tigers are one of the most endangered species of the world. Of the 3200 tigers left worldwide, half of the population is found in India and the rest in 12 other countries.
There are presently 6 subspecies of tigers in the world including the royal Bengal tiger. Sadly, 93 percent of the original tiger habitat or homes have vanished because of human interference, habitat destruction, habitat fragmentation and loss of forest covers.
"There are a number of factors that are necessary for tigers to come back, but without true government commitment, there will not be any success," Walston said.
King and his Dynasty
Scientists found that in India, highest tiger population was in the state of Karnataka. Studies at Nagarhole and Bandipur national park showed that due to strict anti-poaching measures, constant patrolling, surveillance, voluntary relocation of people away from tiger habitats, and scientific monitoring, the tiger population has increased to such a large extent that the two parks are now saturated.
While this news is extremely welcome, what this also means is that the state has to urgently look for other areas to expand the existing territory of the tiger.
In Russia, the government is drafting a new law that makes the transport, sale, and possession of endangered animals a criminal offense rather than just a civil crime. Earlier poachers used to kill tigers and claim that it was already dead, which made them easily escape criminal charges.
Russia also recently announced that it was creating a new corridor for safe tiger passage called the Central Ussuri Wildlife Refuge, which would link tiger breeding strongholds in Russia and China reports National Geographic.
Corridors "allow tigers to move between different areas to breed and connect up," Walston explained. "This makes for larger, more robust, and genetically healthy populations."
In Thailand, the government busted a big poaching ring in 2011 and in 2012 the leaders of the group were given strict imprisonment of 5 years. Since this tough stand, no wildlife crimes have been reported in the important tiger habitat – the Huai Kha Khaeng Wildlife Sanctuary.
Small Victories
When the global population of tiger is at an all time low, these three stories are just minor victories in a battle that has to be still battled furiously. But Walston believes that other countries can learn from these examples and try to replicate the success in their nations.
"This is not a species that is on an inevitable decline … They are coming back in some places," he said."When we conserve tigers, we're actually conserving a whole host of species that are maybe not as charismatic or iconic but are equally valuable—and equally threatened," he said.
In India while Karnataka has taken significant steps forward, other states are still fighting the dual evil of poaching and habitat loss. In the 2010 survey it was also made clear that the tiger's need for forest cover was more than the need for the population to grow. In the days ahead, it is this principle requirement that has to be met to avoid more human-tiger conflicts and subsequent fight between tigers for the same piece of land.
More Related Stories,
School Children to Get Wildlife Protection Training
Four Leopards Killed each Week in India
Deepak Dalal, Penning Stories of Nature and Adventure
Image by S Baker via cc/Flickr