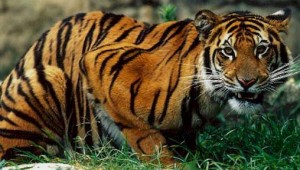 The forest department of Madhya Pradesh is hailing the findings of a recent survey by Wildlife Institute of India that suggests that there may be seven tigers in the Indore, Dewas and Barwani ranges. Pepped up with the presence of the wild cat in an area where it was not observed before, the forest department is now planning landscape management strategies that will benefit the tiger.
Chief forest conservator of the region Dr. P.C. Dubey said that the ranges in question have decided to share landscape management information with each other so that the new tigers may be protected and sustained in the area.
He further added that that a tiger normally occupied about 1500 square kilometers and it was important to adopt integrated approach involving people from all regions for protection of the big cat. For this reason a group consisting of people from forest protection committee, representatives from panchayats, villagers and forest guards has been formed.
Till recently the only concern for forest guards of the area was to curb illegal felling of trees. With the presence of seven tigers, they will now need to also be adept at handling cases of poaching and be well trained to look after the wild cat.
To avoid man-animal conflict and engage maximum people in the conservation and protection of tigers, the forest department is also planning to relax the compensation norms and rules.
"Villagers will come forward for wildlife conservation only when they will have faith that they are not going to lose anything on account of the presence of tigers in the region. Instead, they should feel that they will be benefited by co-operating with forest department," said Dubey.
As the department also realizes that it is important to have a proper prey base for the tigers to continue to inhabit the area, there are plans to start an aforestation drive and increase water capacity of the ranges.
The tigers have been sighted in the areas namely Dabal Chowki, Kalakund, Choral, Punjarapura, Rajpura and Surtipura, which have been marked as tiger habitat areas.
It is good to know that the forest department of Madhya Pradesh is keen on giving the tigers a protected habitat in their new homes, but whether the locals too can respect the presence of the wild cats and share the landscape with a predator friend, will have to be seen. It is a big opportunity for Madhya Pradesh to develop a core plan that makes sustenance of humans and tigers possible in the same region. If they succeed, they will set a great example for other states to follow.
Related stories:
Madhya Pradesh Without a wildlife Doctor
Angry Mother Bear Scares off Two Tigers in Ranthambore
Bor Wildlife Sancturay Welcomes Three Tiger Cubs
Reference: TOI