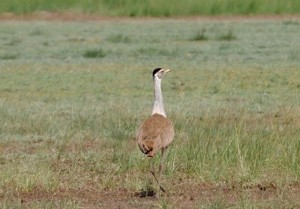 The infamous Bellary region in Karnataka is once again in news, this time not only for illegal plundering of mineral wealth of the state. The repercussion of extensive, destructive mining has resulted in the near extinction of the Great Indian Bustard which were once the pride of Karnataka's bird life. A major shift in traditional farming practices also have contributed to their dwindling grass land habitat.
The Great Indian Bustard has been listed as a critically endangered bird species and an 'Emergency conservation plan' proposal has been submitted to the forest department for action.
The Bird
Great Indian Bustard is considered the heaviest flying bird found only in India and Pakistan. The female birds lay eggs once a year and their life span varies from 15 to 20 years. Their occurrence now is restricted to only six states with a total number of 300 in the world. Their critically endangered species status calls for immediate action.
Present and Past Status
Now they are found only in six states- Maharashtra, Karnataka Andhra Pradesh, Gujarat, Rajasthan and Madhya Pradesh. Earlier they existed in 11 Indian states. The great Indian Bustard is found only in the Indian-subcontinent specifically in India and Pakistan. With their present number at 300 total, and hunting of these birds in Pakistan, their extinction looks imminent.
Shrinking Habitat
The disappearance of the bird is attributed to changing agriculture methods. They once fed on traditional crops like legumes, millets and pods and groundnut in drought-prone North Karnataka that practised mixed farming. An organisation 'Great Indian Bustard Foundation' of Pune, recently conducted a survey and analysis of population patterns in Karnataka.
Pramod patil of the foundation said,
"The drought-prone region of North Karnataka also had the right climatic conditions for the bustards to thrive. Stone quarrying and mining in the Bellary region have permanently destroyed their habitat. I am not sure if the eco-system can be recovered."
Once present in large numbers in Ranebennur sanctuary, these were lost in 1999 due to afforestation in the area by planting of Eucalyptus hybrid plants. Some grass land patches that were left had weeds grown on them. This acted counterproductive to the survival of the birds as they are grass land birds and cannot thrive in any other form of habitat.
According to Pramod patil,  "A very large number of bustards died because of the lack of recognition that it is a grassland bird. But due to social forestry issues and complete mismanagement, an important eco-system like grasslands have been lost in Karnataka."
Restoration, Correction Measures
Urgent measures need to be undertaken on a war footing what with Karnataka left with only eight or nine Bustards found only in the Bellary region where intense mining activities are taking place. The 'Emergency conservation plan' envisaged by the foundation proposes that  grass lands in sanctuaries that have been destroyed need to be restored by removing invasive plants and allow natural regeneration of grass land.
With a view to increasing grass density and quality in the grass land that are over grazed, 'Grass land Restoration Project' is being proposed on a scientific basis, by involving local communities.
Also it is very important to protect the areas where the Bustards still exist and manage them properly.
Article source: TOI
 Related Stories:
Poor Genetic Diversity Spelling Doom for Great Indian Bustard
Great Indian Bustard now Critically Endangered