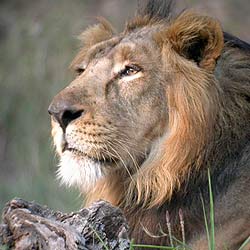 A Gene Bank for wild animals akin to humans is being proposed by the Government of Gujarat backed by the environment ministry, with a view to protecting Lions from inbreeding and eventual extinction. This project, a first for India is estimated to cost Rs. 67 crores.
Asiatic Lions in the wild are found only in the Gir wildlife Sanctuary of Gujarat. Although more than 300 lions are found in the area it is a dire situation as to have lions in just a single wildlife area amounts to inbreeding and finally extinction. Earlier attempts by the ministry to relocate at least some of the lions to Kuno in Madhya Pradesh were made but were not successful as Gujarat Chief Minister Narendra Modi refused to part with the cats citing that they are pride of Gujarat.
The outcome of these concerns led to proposals of setting up wildlife genomics and DNA data banking facility for lions in different geographical locations, of different generations and diverse lineage.
The DNA bank will help provide the lineage data to wildlife experts who can assess the disease susceptibility and breeding stress. The Gujarat government is also planning cloning of wild animals in the future. This technology in turn can be used for protection and sustenance of highly endangered animal species like the Asiatic lion. The DNA bank with embryo technology would also augment the task on hand.
Few gene banks for wildlife are in existence round the world; there is the Animal Gene Storage Resources Centre of Australia, Poland's National Plant, Fungi, Animal DNA bank, New York's Ambrose Monell Cryo Collection, Wildlife Genetic Resources Bank, Malaysia and Conservation Genome Resource Bank for Korean Wild life.
Although India already has world's largest gene bank for seeds it may soon also have gene bank for wildlife.
The Central Government has received requests from Gujarat Government seeking funds for establishing the facility.
Jairam Ramesh, former environment minister said,
"We have agreed to the gene bank and have asked Planning Commission to provide requisite funds."
As the proposed Gene Bank is expected to cost Rs.67 crores, possibilities are being explored to partially fund the project with private partnership, officials of the ministry said.
Related Stories:
Ghost fishing Scare at Gujarat Coasts
Pangolin Rescued from a Well in Gujarat
First Whale Shark Satellite Tagged in India
Article reference: Hindustan Times