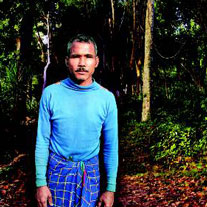 Nothing is simpler than planting a tree and yet not many really pick up the spade to toil under the sun and nurture a plant. That is why what Jadav Payeng has been doing for the past 30 years is incredible. He has not only made tree plantation a life time hobby but converted a barren land into a lush green 550 hectare forest in Assam which is now home to five tigers.
Jadav was 16 year old when he first realized the need to plant a tree. A flood had left hundreds of reptiles dead in his sandbar and the teenager was grief stricken.
"The snakes died in the heat, without any tree cover. I sat down and wept over their lifeless forms. It was carnage . I alerted the forest department and asked them if they could grow trees there. They said nothing would grow there. Instead, they asked me to try growing bamboo. It was painful, but I did it. There was nobody to help me. Nobody was interested," he recalls.
The teenager was so moved that he left home and his school and started living in the sandbar in middle of the great river Brahmaputra. The indifference of others did not deter Jadav. He had true faith in his belief that one tree at a time could save the snakes and other animals he had began to love so much. He watered the plants morning and evening and pruned them. After a few years, the sandbar was transformed into a bamboo thicket.
"I then decided to grow proper trees. I collected and planted them. I also transported red ants from my village, and was stung many times. Red ants change the soil's properties . That was an experience.

"After 12 years, we've seen vultures. Migratory birds, too, have started flocking here. Deer and cattle have attracted predators."
The best reward Jadav received for his 30 years of nature nurturing was when predators began getting attracted to the forest he had created. Because of the abundant population of prey like deer and cattle, Tigers found Jadav's forest very inviting. Presently five tigers have been known to visit the man-made ecosystem
Late Recognition
It was not until a herd of elephants paid a visit to the sandbar in 2008 that the forest department finally sat up and took notice of the incredible work Jadav had done for Mother Nature.
Assistant conservator of forests Gunin Saikia met Payeng for the first time.
"We were surprised to find such a dense forest on the sandbar. Locals, whose homes had been destroyed by the pachyderms, wanted to cut down the forest, but Payeng dared them to kill him instead. He treats the trees and animals like his own children. Seeing this, we, too, decided to pitch in," says Saikia. "We're amazed at Payeng. He has been at it for 30 years. Had he been in any other country, he would have been made a hero."
But the department is now supporting him with their experience and knowledge. Congressman Bijoy Krishna Handique too is keen to convert the area into a protected forest region under India's Wildlife Protection Act.
The forest has been named "Molai's Woods", after Payeng's pet name.
He has a simple message to share,
"Nature has made a food chain; why can't we stick to it? Who would protect these animals if we, as superior beings, start hunting them?"
India's Endangered salutes this lone eco-warrior.
Visit Molai's Woods
If you would like to help or pay a visit to Molai's Woods the place lies in Jorhat, some 350 km from Guwahati by road. At one point on the stretch, a smaller road has to be taken for some 30 km to reach the riverbank. There, boatmen will ferry you across to the north bank. A trek of another 7 km will then land you near Payeng's door.
More Related Stories,
87 year old Creates Man Made Forest
One man Making Desert Lands Greener
Finnish Women set to become First Woman Mahout