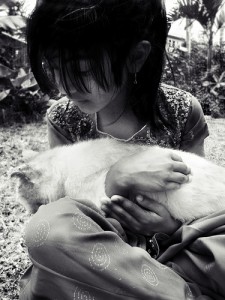 The majority of Indians believe that protecting animals is important, according to new research released today by the World Society for Protection of Animals (WSPA). The research, commissioned by WSPA and undertaken by prominent research agencies GlobeScan and TNS Global, shows that 73% of Indians think the treatment of animals is a serious challenge in our society.
The research was unveiled as WSPA launched its campaign for animal protection in India at the International Bear Conference ongoing in Delhi. 
As per the finding of the survey,  87% of Indians agree that animals have as many rights as people – more than anywhere else in the world. But what is appaling is that inspite of all the attention we give to animals while worshipping them, there are still instances recorded everyday of a bear burnt or a leopard beaten to death, just because it ventured into human habitat.
Speaking at the launch event, WSPA CEO Mike Baker, said,
"It is inspiring to see that animals matter to people in India. At WSPA, we know that animals also matter to the planet – protecting them is vital to any successful response to the biggest issues of our time, from disasters and climate change, to stable food supplies and good health. It gives me extreme pleasure to help launch our campaign for animal protection in India, building on the successes we have already achieved here. The welfare of animals affects us all, and protecting them cannot wait."
India is a land where loving and caring for animals is ingrained in our culture, said Maj. Gen. Kharb, Chairman of Animal Welfare Board of India AWBI) on the occasion. It is therefore ironical he said that at one end of the spectrum we worship the Elephant God, pray to the holy cow and at the other end, kill, butcher and beat animals to death.
He also added that when it come to man-animal conflict, human beings are always the winner and there are few who really empathise with the animal in a conflicting situation.
Love and care
What perhaps is required most is for local communities, especially those living near the fringes of the forest, and those interacting with animals on a day to day basis like farmers and cattle herders to be better trained at caring for the animals.
If humans can be educated to become doctors and engineers, more need to be educated on becoming compassionate human beings who do not lift the stick or gun on first instant when an animal approaches their territory. Indian's may believe that animals need more protection, Indian may worship and revere animals because of their cultural obligations, but we lack the basic skills to stand for the animals and respect their life when our life seems to be threatened.
Hopefully, WSPA with its prolific work will help change mindsets and create a team of people all over India who have the necesary mental and physical skills to respect and protect animals.
More related Stories,
India's endangered present Poetry Contest – 1
Explosive Idea Resolves Man-Animal Conflict
Another 400 Species get Red Listed
Image via CC/Flickr by Yashna M