North East Indian Forests include some of the least explored forest areas in our country, partially due to their remoteness and partially because of the military tension in the border areas. And for the same reason, these forests possess an air of mystique and thrill for nature and wildlife enthusiasts.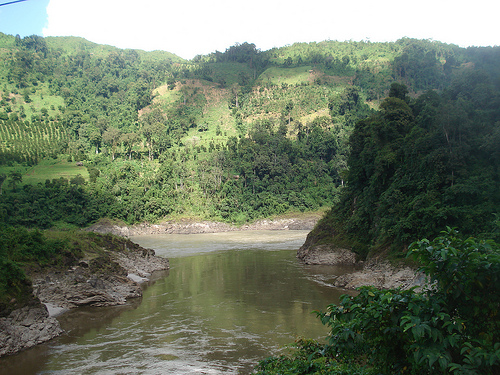 Namdapha National Park is one such National park, wild and relatively unexplored. It is located in the Changlang district of Arunachal Pradesh and named after the river Namdapha originating from Daphabum, the highest mountain peak in the Reserve. It is the largest protected area in the Eastern Himalayan biodiversity hotspot. It spans over an area of about 1985 sq kilometres and more than 60 percent of the protected area is virgin and unexplored. The Park has a dense cover of vegetation with high hills, and numerous rivers and seasonal streams and is recognized as one of the richest areas in biodiversity in India.
When one is visiting hitherto unknown parts, the best way to make the most out of the trip is to travel with experts. So I joined BNHS, (Bombay Natural History Society) on their tour to Namdapha National Park which is one of the largest non-governmental organizations in India engaged in conservation and biodiversity research.
Reaching Namdapha National Park
Reaching Namdapha National Park does take a little time since the place is tucked away in the east near the Myanmar border. Assam State Transport Corporation and Arunachal Pradesh State Transport buses ply daily from Dibrugarh to Miao via Tinsukia, Margherita, Ledo, Jagun and Kharsang.
The meet-up point for the group of 20 people in the tour was Guwahati, Assam from where we took an overnight bus. The bus journey started at 5:30 PM and came to an end the next morning around 11 AM. This was followed by another two hour bumpy road journey to reach Miao, Arunachal Pradesh. Enroute, there was a halt where the Inner Line Permits were submitted and we crossed the Assam border.
After a hot breakfast at the Forest Guest House in Miao and the distribution of leech socks by our local guide and host, Mr Phupla Singpho, we set off for the walk into Namdapha Forest. At the Forest Gate where we paid the camera charges for the entire length of the trip, that is 5 days, INR 100 a day for a regular point and shoot and INR 500 a day for a professional camera. And then we started the first trek at Namdapha Forest.
Walk in the Clouds
 Namdapha is one of the few National Parks which you can explore only on foot. The first trek just like all the other following treks was full of promise and adventure.  Colorful butterflies flitting about, noisy Hoolock Gibbons, Giant Wood spiders making a merry meal, wild flowers scattered among the green, shy birds with spectacular plumage, the marvellous Noa-Dehing River and mesmerizing glimpses of the mountain ranges in between, Namdapha is very soothing to the eyes.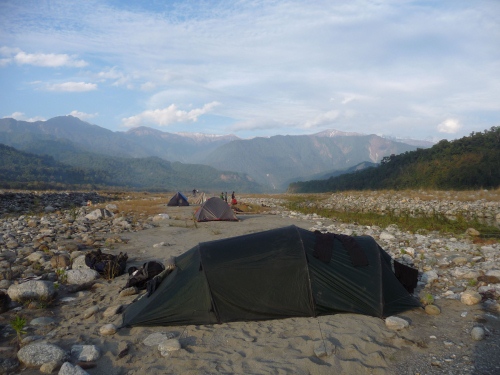 Our trip consisted of a two day tent stay near the banks of the Noa-Dehing River and two days of stay in the River Huts near Deban, which was also at the river bank. Both the campsites, though with bare minimum facilities are beautiful beyond belief and left us spellbound with their natural beauty.
A trip to Namdapha means being completely cut off from electricity, cell phones and all other things from the modern world. And yet Nature is so resplendent in its glory at Namdapha, that one hardly notices the absence of these things.
Sunrises occur at 5 AM and sunsets happen at 5 PM in this little slice of heaven and so Arunachal Pradesh is also called as the State of the Rising Sun.
A word of caution though, Leeches are in abundance at Namdapha National Park and venturing in the forest without leech socks would be foolhardy. Leeches can sense blood from afar and jump onto your skin and latch on to suck blood. Although the bites not at all painful, it is not a pleasant experience. So in addition to wearing leech socks, carrying a jar of salt or tobacco is advisable. Incase a leech comes in contact with your skin; all you need to do is sprinkle salt on it and flick it off while it loops for movement.
Flora and Fauna of Namdapha
Namdapha is a paradise for those who love to see butterflies and also for birders. Four big cats that is the tiger, leopard, clouded leopard and snow leopard are said to be found in Namdapha. However, the big cats remain highly elusive and sightings are extremely rare.
Mammals – Apart from the big cats, Namdapha is home to the Hoolock Gibbon which is the only Ape species that occurs in India and also the Golden Cat, Marbled Cat, Assamese Macaque, Red Panda, Sambar, Barking Deer, Himalayan black bear, Gaur and the Namdapha Flying Squirrel.
Birds – Birds such as the White Wing Wood Duck (an endangered species), Pied Falconets, Pied Kingfisher, White throated Kingfisher, Long tailed Shrike, Jungle Mynahs, Ashy Drongo, Pied Wagtail, Hoopoe, White Capped Redstart, Great Pied Hornbills, Gold fronted Leaf Birds, Pied Forktail, Sultan Tit, Scarlet Minivet etc are found here.
Butterflies – Butterflies are found aplenty at Namdapha Forest. To name a few, we saw the Color Sergeant, the Popinjay, Dusky Diadem, Common Map, Common Maplet, Jungle Glory, Common Jester, Red Base Jezebel, Leopard Lacewing, Swallow Tail, Orange Oakleaf, Fluffy Tit, Paris Peacock and the Dragontail Butterfly.
Flora – Namdapha is a botanical paradise. More than 700 plant species are found at Namdapha. These species belong to about 400 genera representing as many as 97 families. There are 90 tree sub-species, 66 shrubs sub-species, 316 herbs sub-species, 56 climbers, 23 sedges and 99 grass species.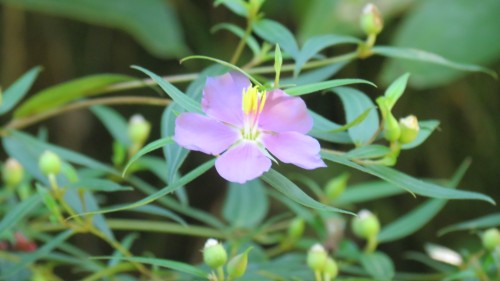 There are more than 150 timber species. The Pinus merkusi and Abies delavavi are found only at Namdapha in India. One of the most endangered orchids, the Blue Vanda is also found here. The most famous local medicinal plant Mishimi Teeta (Copti teeta), which is used by the local tribes for all kinds of diseases is also available here.
Some things to remember
Best time to visit Namdapha is from October to April.
Nearest Railhead – Tinsukia, Assam
Nearest Airport – Dibrugarh, Assam
Two permits are essential to visit Namdapha. One is the Inner Line Permit for entry into the state of Arunachal Pradesh and the other is a tourist permit issued by the office of the Field Director, Namdapha.
Leech socks are a must. I cannot repeat this enough times.
If you are a photography enthusiast and do not wish to miss out on any opportunity, please carry extra batteries, as there is no electricity and hence no charging facility at Namdapha.
And last but not the least; Namdapha is one of the few pristine jungles left in India. Be an eco-traveller and do not litter the place.
More Related Stories,
A Birder's Paradise: Bharatpur Bird Sanctuary
New Bird Discovered in Andaman Islands
Arunachal villagers Surrender Guns to Stop Hunting
Image courtesy,
Ahinsajain, twak, wikimedia commons, thegreenpastures and Shilpi Gemawat