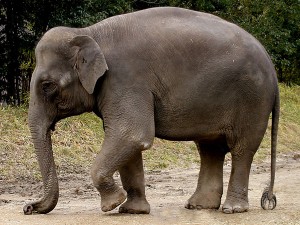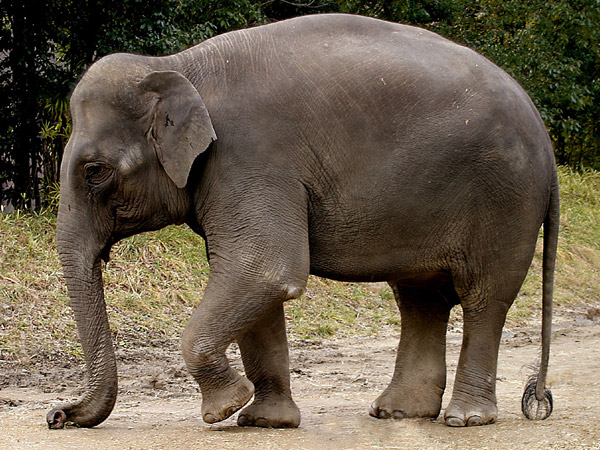 The elephant is the national heritage animal of India. It is the finest example of a species that is tough to look at but with the kindest of hearts. The jumbos are social animals that love, cry, play and live together as a family for a lifetime. As Joyce Poole quoted in The Fate Of The Elephant,
"Whether sad, angry, distressed, eager, or playful, elephants are this in a big way."
Here are more interesting facts about these animals with a big heart.
Asian Elephant Family
The Indian elephant (Elephas maximus indicus) is a one of three subspecies or races of the Asian elephant "Elephas maximus".  The other two subspecies of the Asian elephant are E. m. sumatranus in Sumatra and E. m. maximus in Sri Lanka. The Indian elephant is larger, has longer front legs and a thinner body than the Asian elephant found in Thailand.
 Airy Ears 
Elephant ears radiate heat to keep them cool.
An African Elephant's ears resemble the continent of Africa whereas Asian elephants have a more rounded and smaller ear lobes.
These animals are so fond of water they enjoy a shower whenever they can by sucking water from their trunks and spraying it on themselves. Surely, the first natural showers of the world!
Trunk Call
An elephant´s trunk, a union of the nose and upper lip, is a highly sensitive organ with over 100,000 muscle units.
While most animals use their nose to just breathe, the elephant uses it to trumpet, grab things, smell, spray water and of course breathe too.
Asian Elephants have a finger like feature at the end of their trunk that they use to grab objects. Their African cousins have two of these fingers.
Sometimes the elephants trunk becomes so heavy they need to rest it over their tusk.

Contrary to popular belief elephants do not drink from their trunk. They just use it to fill water and pass it to the mouth.
Food for Thought 
Elephants look mighty and can crush a lot of animals under their feet, but unless provoked they are mild animals and totally herbivorous in nature.
An adult elephant can consume 138 kgs of food each day 300 pounds.

They love to eat roots, steps, fruits of all kinds.
Tough Tusk
The tusk is used in a multiple ways too – to dig for roots and water, strip bark, and fight with each other.
Most elephants in the wild are killed for their tusks, each fetching thousands of dollars to the poachers.
 Jumbo Family 
Female elephants are known as cows and adult males as you might have guessed, Bulls.
The female have a pregnancy period of 22 months!
While females tend and look after the young, males roam around alone.
Average life span is 60-70 years.
Asian elephants are more closely related to the extinct mammoth than the African elephants. See here for details.
Endangered or not
The Indian elephant population is estimated to be between 20,000 and 25,000 in the wild. Although the WWF considers it widely distributed the species is still endangered. The biggest threat is from human encroachment, poaching for tusks, deforestation and constant human animal conflict. 
Related Stories:
Elephants get Photo Identity Cards
Villagers give up their Land for Elephants
Elephants saved from being Hit by a Train in Assam